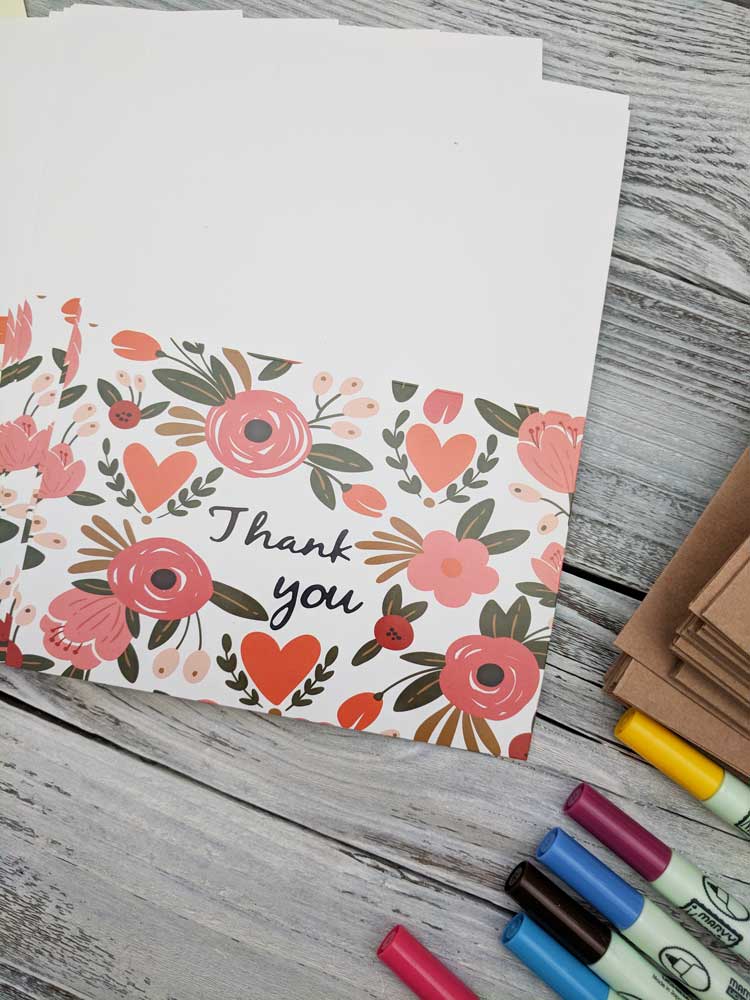 Gratitude has shown to have many benefits. There is a reason a gratitude journal is such a popular idea. Many people have set their New Years Resolutions to write down something they are grateful for every day. A grateful attitude has shown benefits of feeling good and even reduces depression.
A simple handwritten thank you card not only shows you haven't forgotten about a gift or gesture, but it can also act as a stress relief for you! Thank you cards can be used after holidays, weddings and more. Picking up a pack of thank you cards is a cheap and easy way to express gratitude. Here are some I received for this post on Etsy.
When to Write Thank You Cards
After an Interview
While there are mixed feelings about after interview thank you notes, I've never seen anything wrong with extending conversation with this personal touch after an interview. The job market can be competitive, so let the thank you cared show you are professional and invested. It might make you stand out among the others.
For Your Mentor
Mentors give more than they take. That is what makes them a mentor! Don't neglect this relationship, it is important to write a thank you card showing how grateful you are for their knowledge, guidance, and overall mentorship. Hopefully it will be a relationship that has longevity when you take time to appreciate their time and dedication.
Friend Who Has Been There
Keep fostering that relationship. If a friend has been there for you during a tough time, you might not have a lot to give to your friend right now. That is ok for the time being. A thank you card is quick and simple. It shows you are acknowledging your friends help during your hard time.
After Events
Maybe the most obvious time to send a thank you card is after a party when gifts are received (holiday, birthday, wedding, etc.) It is an absolute must to send a thank you note after these events when gifts are exchanged, but it is also important after other events as well. Maybe you want to thank your guests for coming to a fundraiser, or thank your relatives for supporting your child's sports games this season.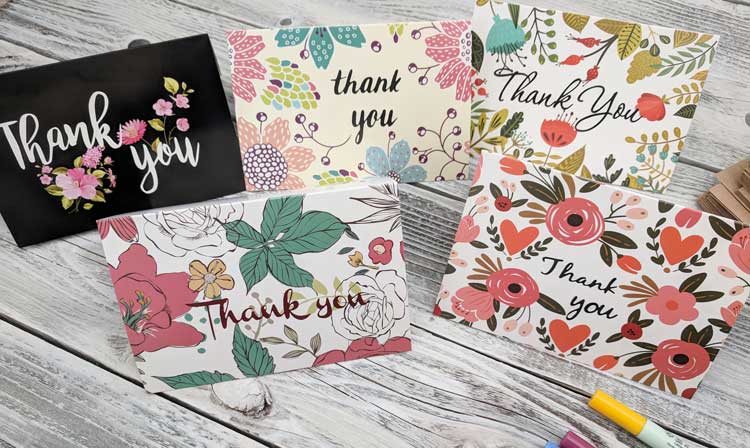 When You Got A Referral
New clients and customers keep businesses running into the future. Without them, businesses remain stagnant or begin to fail. If you received a referral from someone, whether or not you got the sale, you must show your appreciation to the person who trusted in you enough to refer someone to you. Neglecting this thank you does not help generate more referrals, but may mean that person will refer elsewhere next time.
After A Favor
Did your neighbor shovel you driveway when you were out of town? Did a friend pick up your kids from school when you were stuck in a meeting? It only take a few extra minutes to write a thank you card to go along with the in person thank you. Maybe even throw in a $5 Starbucks card. This special note might mean the person will be willing to help you again in the future.
Random Act of Appreciation
It doesn't take much effort to write a simple thank you card. When you show gratitude and it is completely out-of-the-blue it is so meaningful. Maybe your boss frequently talks about your great work to others, or your babysitter has never cancelled on you, write a note to say you notice and it will make an impact!
To Your Co-Workers
The end of the year is a great time to reflect on the things your team accomplished this year. It is a perfect opportunity to thank your co-workers who worked with you to accomplish targets and complete projects with you. You couldn't have done it without them!