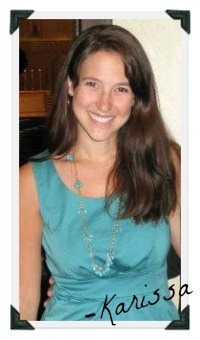 name: Karissa
location: Colorado
occupation: Flight Attendant
brief: I graduated from Western Washington with a BA in Business Management in 2006. With a desire to see the world – I became a flight attendant. I met the kindest man while traveling and moved across the country to marry him. I love to shop, cook, travel, and do all things crafty.
My family and friends mean everything to me and I believe there is nothing better than cherishing the special moments we have together. I am excited to share my views on products, life in general and all that is worthwhile!
favorites:
Favorite Color – Purple
Favorite Town – Portland, OR
Favorite State – Washington
Favorite Country – Ireland
Favorite Flower – Hydrangea
Favorite Fruit – Blueberries
Favorite Vegetable – Asparagus
Favorite Alcoholic Drink – Sangria
Favorite Dessert – Ice Cream
Favorite Sport (to watch) – Football
Favorite Sport (to play) – Tennis
Favorite Television Show – Parks 'N Rec (R.I.P.)
Favorite Season – Summer
Favorite Candy – Reeses Peanut Butter Cups
Favorite Restaurant – Sweet Tomatoes
Favorite Game – Poker or Any Card Game
Favorite Team – Seahawks!
Favorite Clothing Item – Leggings
Favorite Hobby – Gardening
Favorite Holiday – 4th of July
*Since starting WithOurBest in 2010, my reviews have been featured on product websites, including: Carissa Rose, Velveeta/Rotel, Hail Merry and more. I've worked with brands both big and small including: Whirlpool, Adidas, Kia Motors to individual Etsy shops. I am a brand ambassador, company ambassador, and charitable organization ambassador. I was also featured in the USA TODAY article, Five experts pick their favorite bags and why.
Disclosure: WithOurBest.com occasionally receives vendor/ brand sponsorships for mentioning their products and services.