Everyone travels differently. Different destinations, different time periods, different lifestyles, different objectives. It is so great that everyone has different ideas about taking holidays. Some people would love taking the family on a farming vacation, some singles backpack the world alone in six months and some couples enjoy the all inclusive holidays.
No matter what the vacation, you need a budget.
Whether you are driving, flying, staying with relatives or going-all-out and living it up, you must make a budget if you don't want to be shocked when your credit card bill arrives!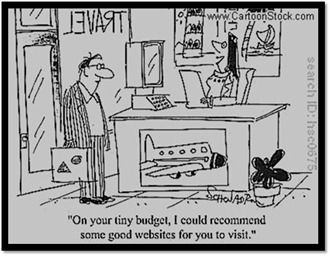 I hope that your transportation, activities, entertainment and lodging are obvious factors when making your travel budget. But don't forget all of the small things:
Extra excursions
Tips
Items forgotten at home
Gas
Rental car insurance
Souvenirs
Eating out
Etc…
It all adds up quick! I like to set a budget by the day, it makes it easier than budgeting for the whole trip. That way you can plan your activities in advance, be organized and prepared. If you do this, you will tend to think more about the daily activities and the little expenses that tend to creep the vacation bill up and UP!
Also, if you realize you are spending more than you anticipated on lets say, your food budget, but don't want to cut out those fancy tapas lunches, you should plan on making a cut somewhere else during your trip, like souvenirs. Who needs another shot glass or magnet anyway? Just take pictures for your souvenirs… and if you end up with unspent money in your budget, frame a picture to remember the trip… it will last longer!
Okay, one more tip… out of personal experience, don't let a budget ruin your trip either. Be prepared and you will know what to expect. Be flexible and OVERBUDGET. Don't let your limited budget bring down the fact that you are in an awesome place and on vacation! Enjoy your travels, limiting money spending doesn't have to ruin a great trip!
Do you have any travel budgeting tips?