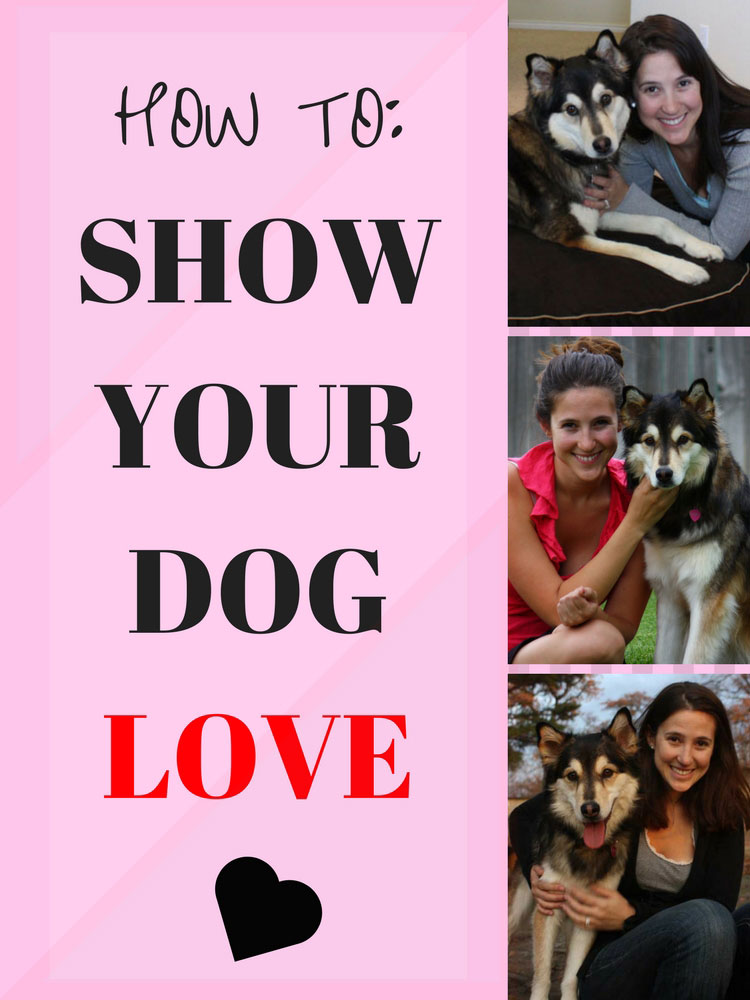 Valentine's day isn't just about our human companion. It is also about our pet companions too! Are you showing your dog love this holiday? What is the best way to show your dog your love? It's not that complicated! Here are some ways to show your dog your love:
Share The Emotion
Dogs are fairly simple. They are calm, playful, scared – just like us. A great way to show your dog that you love them is to meet them at their level of emotion. When they get excited when you walk in the door, be excited with them. When they are playful and silly, throw a ball with them or tug-a-war. When they are scared and shy, sit with them calmly and just spend time next to them. Live in the moment with your pet shows them love.
Feed and Treat The Right Way
Providing your dog with the highest quality treats and food is a way you show your dog you love and care for them and their health! Never feed your dogs anything made in China. There are regulations and standard set on foods and treats, but not when they are from China or any other foreign country. There have been hundreds of recalls on pet toys and treats – it is not worth it! Show your dog you love them with the healthiest and cleanest food, like Petcurean. Our dog loves this food and it is the best quality dog food that I can find! I want my dog to live long and to have no health issues, that is why I choose the healthiest treats and food.
Read The Body Language
Dogs communicate a lot through body language.They tuck their tail when they are cautious. They put their hair up on their backs when they are on the defense. They growl or snap when they are giving a warning. Other communication signs dogs give are: turning their head away, hiding, licking lips, lip curling, yawning frequently, and hiding their head.
Learn to read your dogs body language so you can better understand what your dog is trying to communicate. When your dog gives you signs, help your dog be more comfortable. Maybe take them out of a situation that stresses them out. Maybe remove them from the dog park or steer them away from another dog.
Example: My dog gets nervous around loud children. She is scared of children when they are running around making loud noises. When we have guests with children, I tell the family to give my dog space. When she is on her bed, that is her safe place. I have the parent tell the child to not go into her safe place. If the child is too young to understand, sometimes it is best for my dog to be in the other room for a few hours. The stress that children can have on my dog it's worth my dog's anxiety. It is sad to lock her away when it isn't her fault, but it is best for my worrisome dog.
Kisses and Cuddles
Some dogs are more affectionate than other dogs. But for the most part though, dogs show love by showing loyalty and respect. Be aware of this when you kiss and cuddle your dog. Your dog doesn't understand that type of touch as affection. Watch your dogs behavior and signs showing that your dog is scared or nervous. Kids especially like to hug dogs, it might be cute, but watch how your dog reacts. A dog might feel claustrophobic or trapped in a hug. Instead, give your dog soft rubs, pets and scratches!
Pets and Scratches
Rather than kisses and cuddles, which dog's are less likely to understand as affection, give them pets and scratches! Dogs love this type of attention and often ask for it by putting their paw or head on your lap. When your dog starts to fall asleep or his eyes rolls back, you know you've scratches the sweet spot. That's human/pet communication at it's best! Your pet will feel so loved and so relaxed.
How do you show your dog love?
What is your favorite way to show love to your pet?
Disclosure: This post is sponsored by Petcurean.