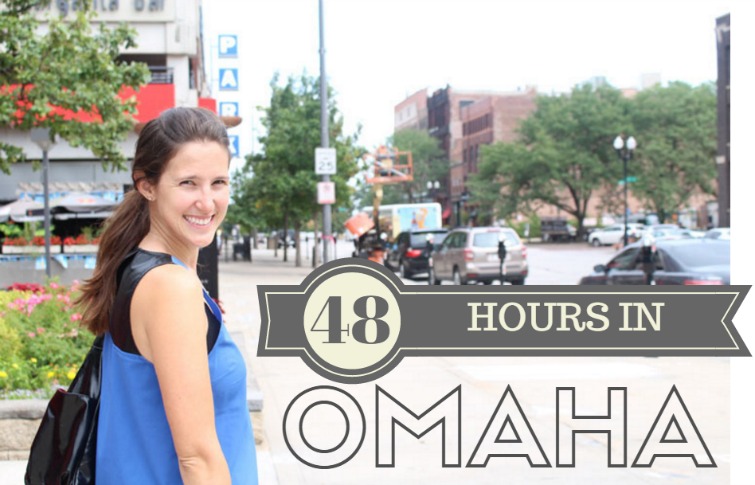 When I was provided the opportunity from Visit Omaha to travel to Omaha, Nebraska, I had my doubts. Hmm…Omaha? But then I thought, "Heck, why not!" I am always excited about any travel adventure…
So I rallied two travel companions (mother and sister in-law) and we took advantage of the short 48 hours we had in Omaha.
Did Omaha surpass my expectations?
Yes. In every way. In fact, I wished I had a couple more days to explore! I can't wait to go back.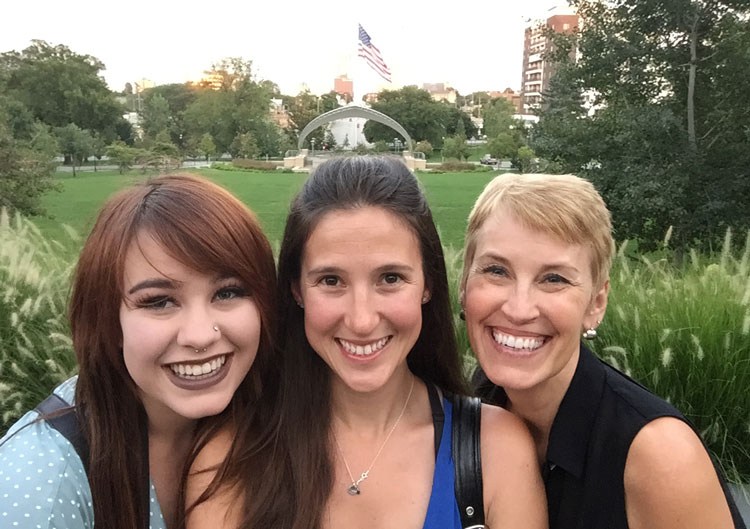 What to do in Omaha:
Omaha Visitors Center
Smartly centered in Old Market, make the Visitors Center your first stop in town! The Visitors Center is full of pamphlets and guides that are helpful for planning your Omaha trip (even your short ones)! Plus, they have a fun picture booth where you can pick a funny/cute/normal backdrop and the photo gets sent to you instantly!
Heartland of America Park
Jog, walk or bike around the lake, admire the huge fountain or take a gondola boat ride at the Heartland of America Park! This is a fantastic place to spend a relaxing afternoon. We walked and biked around this stunning 31-acre park. The fountain projects water 300 feet in the air – it really is quite brilliant!

Rent B-Cycle Bikes and Explore!
It couldn't be easier to explore the city of Omaha than with the ever-so convenient B-cycle bikes. You can rent the bike for a whole day for only $6 at one of the 30 B-cycle stations! (Just make sure you return it to an Omaha B-cycle station at least once an hour and then check out a new bike at that station or another)! B-cycles make it so easy to explore Omaha!
Bob Kerrey Pedestrian Bridge
Be in two places at once while you are on the Bob Kerrey Bridge. This impressive cable bridge stretches across the Missouri River and in the middle you'll find the marker for the Iowa and the Nebraska state line. Don't forget to get a shot of yourself standing on the state lines and hashtag #ithappensonbob
Omaha Zoo
Consistently rated one of the top best zoos in the country make the Henry Doorly Zoo and Aquarium one not to be missed! When visiting the Omaha Zoo don't miss the 'Kingdoms of the Night' – the largest nocturnal exhibit and indoor swamp in the world!
Hollywood Candy and Fairmont Antiques
This place will entertain you and take you back in time! I am not going to lie, it is hard to describe, but inside you will find a candy shop, cozy private movie theater, Santa and the North Pole, billiards, video games, Elvis and old time memorabilia that will remind you of the "good old days". It's nostalgic and a little crazy!
South Omaha
Polish, Czech, German and Mexican heritage flow throughout South Omaha which make it a great place to explore history and some really delicious and authentic food! When there, make sure to stop by the Tree of Life, a sculpture that represents the many aspects of the area.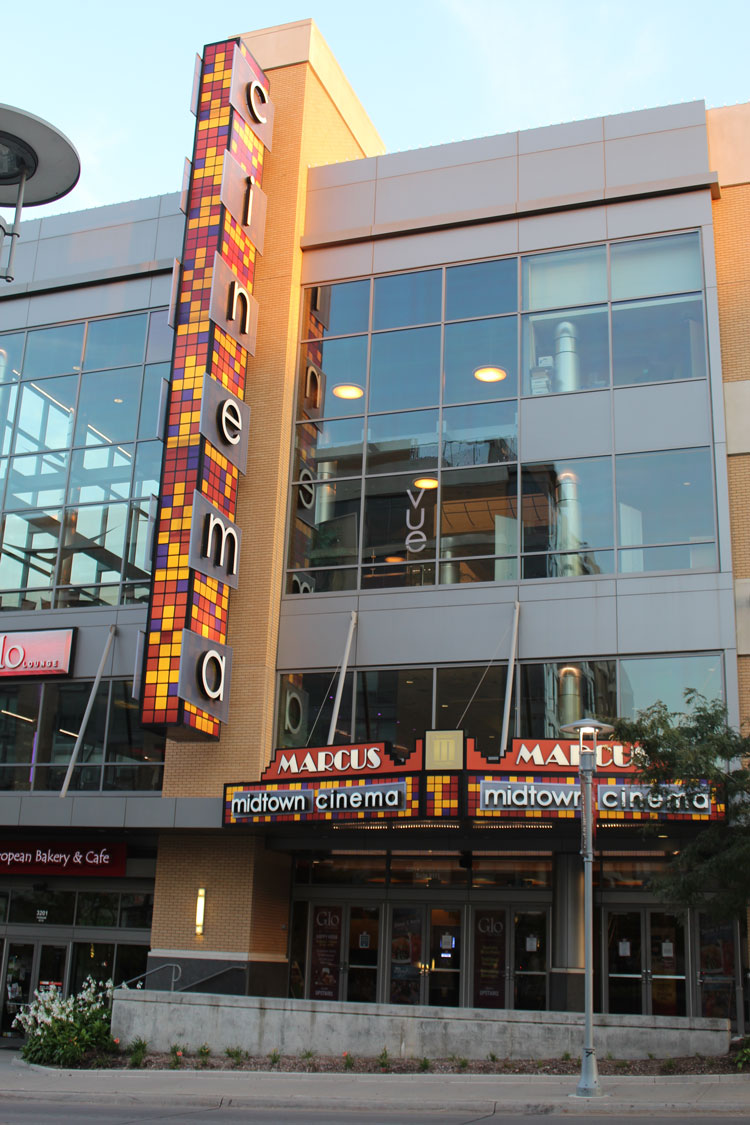 Midtown Crossing
We love the new and hip feeling of Midtown Crossing. Not only are there amazing places to eat – there is great shopping too! Midtown crossing will keep you busy – from the boutique pet and retail stores, to the movie theater, yoga studio and quaint outdoor seating restaurants. There is a gorgeous park where you'll see people exercising, walking their dog and playing ping pong!
Boys Town
This is a charming community that includes the Village Drive, Garden of the Bible, Hall of History, Father Flanagans House, Rose Garden and more. Its history dates back to 1917, where a priest started a school for boys and has now grown into one of the largest non-profit child-care agencies in the country!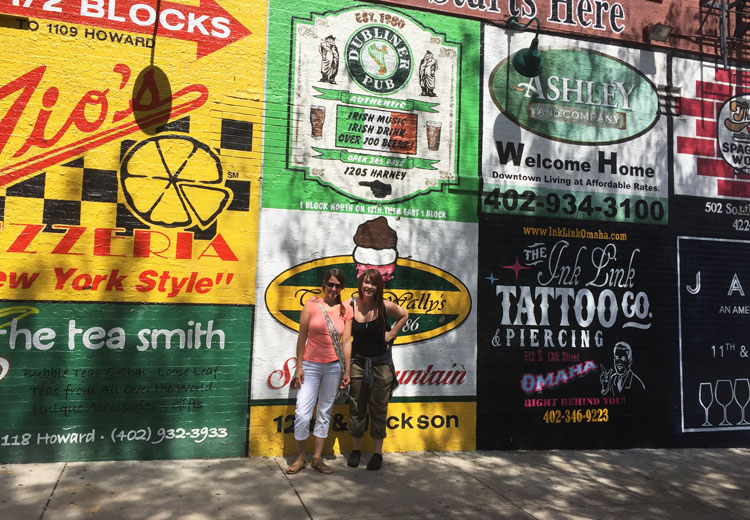 Old Market
The Old Market part of downtown Omaha is historic and entertaining. There is a mix of shopping, restaurants, museums, art galleries and lots of people watching! We loved the antique shops and the cobblestone streets!
Joslyn Art Museum
A really awesome internationally recognized FREE museum? That's right! General admission for the Joslyn Art Museum is 100% free. This Omaha art museum only charges for special exhibitions and collections.
Shopping in Omaha:

Village Pointe
This shopping center is a bit out of town, in West Omaha, but don't let that deter you from going. This mall has it all! We could have spent the entire day shopping the stores like Sephora, Anne Taylor, Old Navy, White House Black Market, and so many more. We downloaded the Omaha Savings app on our phone and got a free coupon book from Scheels department store! The coupons are worth the effort – discounts at many Village Pointe stores, restaurants and even a free ride on the Ferris wheel!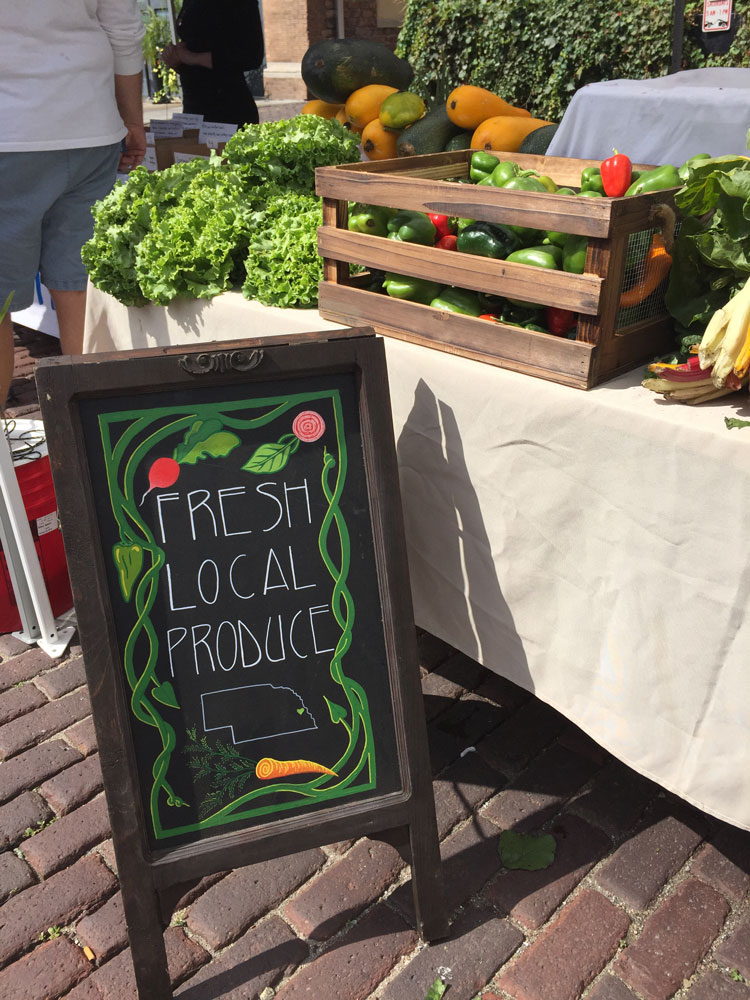 Farmers Market
Omaha has a couple great farmers markets around town. We checked out the Old Market Farmers Market which is on Saturdays throughout the summer. The produce was incredible, beautiful and well priced! There were also booths of crafts, soap, organic meat options and other local vendors. We enjoyed the honey ice teas and the salsas!
Events in Omaha:
Omaha Fashion Week
Fashion Week in Omaha was an event to remember. Surprisingly, the Omaha Fashion Show is one of the largest in the country! The designers really captured our attention with their incredible and creative creations. All the way down to the small details of the fashion pre-show. Honestly, Omaha Fashion Week was fabulous and a memory I will cherish forever! You've got to see it to believe it!
NCAA College Baseball World Series
Probably the most famous big event in Omaha, the College Baseball World Series is a exciting and busy time for Omaha. All the shops and restaurants around town get into the spirit and offer discounts and deals, extra specials and make it a great time for those that are visiting Omaha for the CWS.
Where to stay in Omaha:

Hotel Deco
Glamour, glamour, glamour! The only AAA hotel in Omaha, Hotel Deco is the place to stay in downtown Omaha! The hotel feels luxurious in every way and doesn't disappoint.
The Hotel Deco is right outside of Old Market, making it walkable to just about everything in downtown Omaha! In the mornings there is a coffee station in the lobby where you can sip out of real mugs or take a cup 'o joe to go! The hotel provides complimentary car service (a Mercedez-Benz) to and from the airport and also within 3 miles of the hotel. We found the drivers are so nice and very accommodating.
The rooms are smartly decorated and very large. There was plenty of space to lounge and relax on the couch and lots of space for us three girls to get ready for a fashion show… you should have seen us – makeup, clothes, shoes everywhere! Oh… and did I mention the spa-inspired showers?
The beds are heavenly, the staff is incredibly friendly, the lobby is swanky… I give this hotel five stars.
Where to eat in Omaha:


Grey Plume
This restaurant floored us! We enjoyed the food, the ambiance and appreciated the social and environmental consciousness of this restaurant. It is really a place that is brag worthy. Why? Well first, they have real relationships with their suppliers, farmers and ranchers. They source as locally as possible and can even name the places where the food comes from! They make many things in-house, which makes the food incredibly fresh and tasty.
Grey Plume is green restaurant certified, and we were in awe of all the ways the restaurant was sustainable (our server was very knowledgeable). The farm-to-table approach, the mindful practices and the award winning food makes Grey Plume a restaurant that stands out from other restaurants.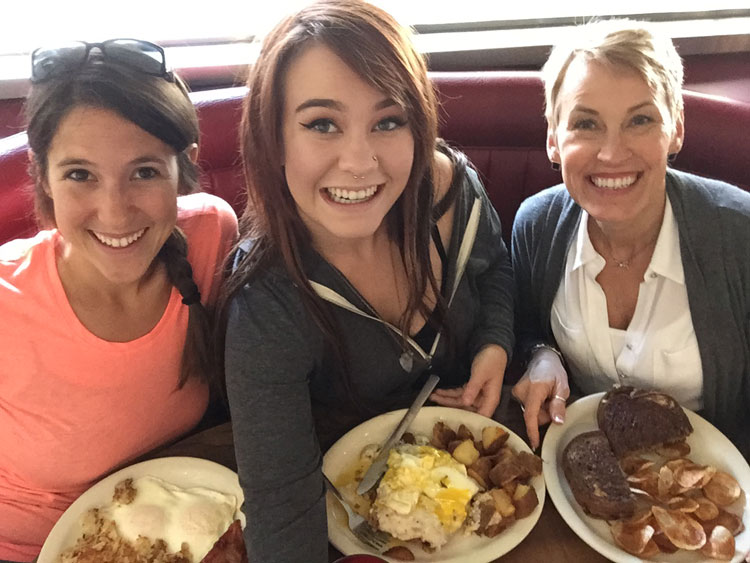 The Diner
On the morning before our flight home, we ran into "The Diner" just before they closed. What looks like your typical breakfast grease pit, actually pleasantly surprised us. We snuggled into a corner booth and ordered three (large) plates of food. The breakfast was so tasty- like I am still dreaming of the bacon… and the potatoes.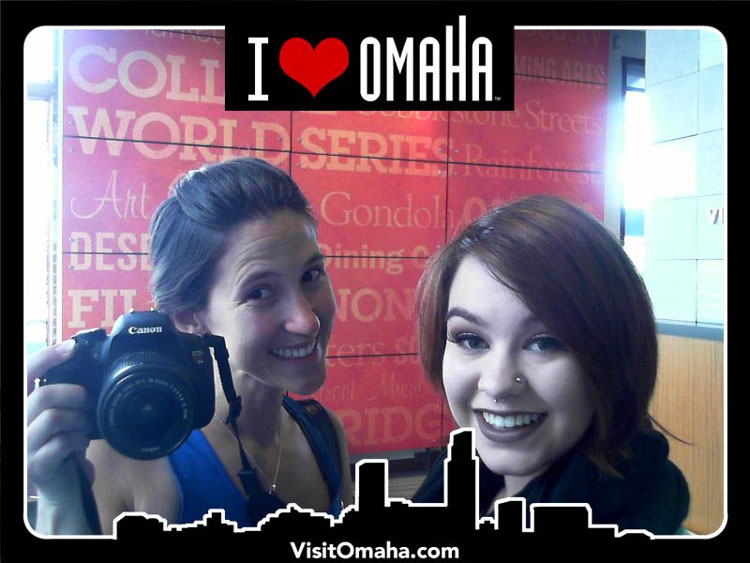 What a great time we had in Omaha!
Overall, Omaha was clean, friendly, unique and had so much to do! I came home with a few extra things in my luggage: a souvenir mug, cookies made from scratch at Grey Plume, handmade local bracelets from the market, a cute outfit from the mall and most importantly, lots of memories.