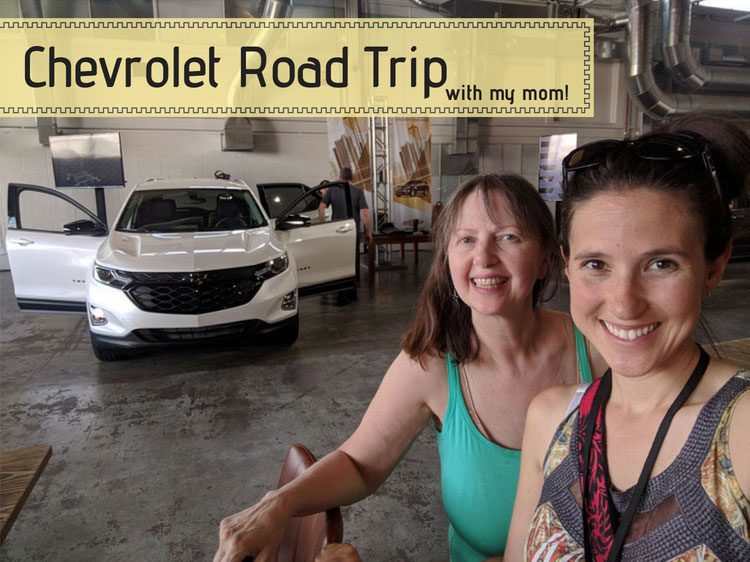 It came as no surprise that when Chevrolet invited me on a road trip to Glenwood Springs, I immediately said "Count me in!" Glenwood Springs is one of my favorite Colorado destinations and I recently heard about the awesome features of the Chevrolet crossover vehicles – so I was pumped to try them out!
As soon as I got the invite from Chevy, I called my mom up to see if she would join me for a mother/daughter trip! She rearranged her schedule and booked a flight out to Colorado! She was excited join me on this blogging adventure.

Chevy Family Event and Family Focused Features
Our weekend started with a kick-off event hosted by Chevy's marketing team. There were food trucks, activity stations and demonstrations. We spent a couple of hours learning lots about the Chevy crossovers – Trax, Equinox and Traverse.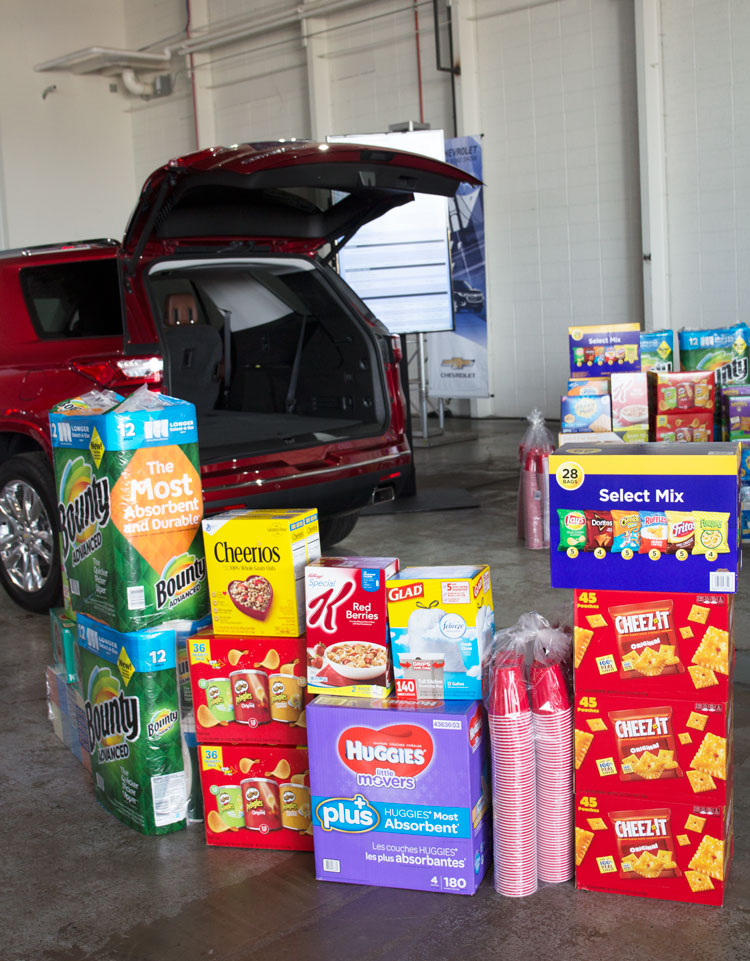 One of the demonstrations showed how much cargo space is in the Chevy Traverse. Mom and I timed ourselves as we tested our car-packing skills. We loaded up all of this (above) into the back of a Chevy Traverse in less than 5 minutes! We were amazed that the Chevrolet Traverse could fit all of these items in the rear cargo area which is 98.2 cubic feet!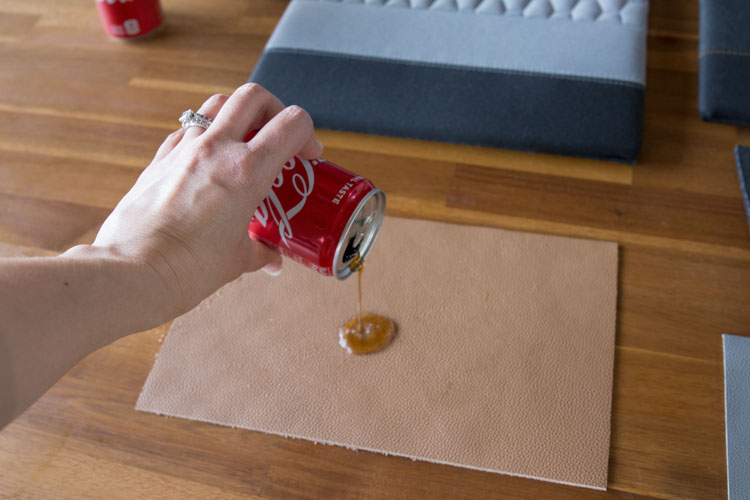 What surprised us even more was the material in the vehicles. Normally, spilling cola on fabric never sounds like fun due to the mess it will make, but this time it was! We learned the upholstery is liquid-repelling and doesn't soak in. It wiped right up with a paper towel – no staining. That's a feature that I can get behind. Especially with a dog that is always tracking in mud!
Next, mom and I tested the virtual reality simulation! (Mom's first time using VR goggles!)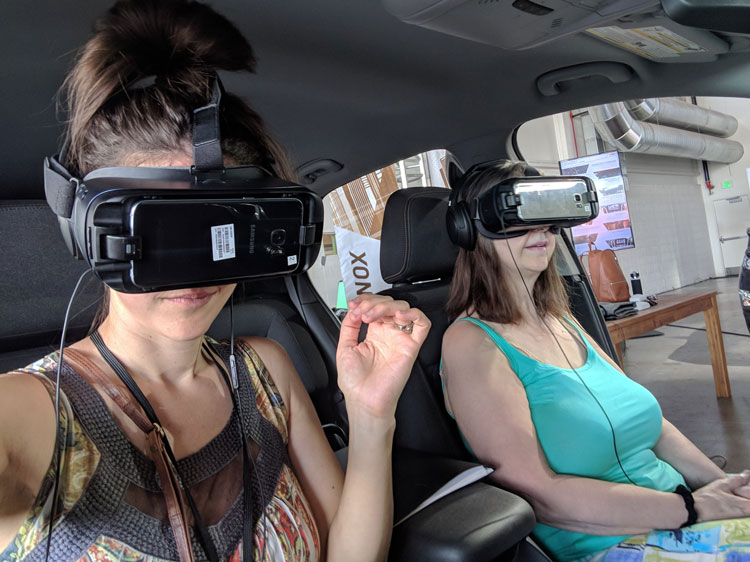 From there we enjoyed a lunch of street tacos and satisfied our sweet tooth with salted caramel ice cream. Like mother, like daughter. At that point, were fully charged and ready to hit the road!
Side note: It was over 100 degrees outside and we were so thankful that one of the Chevy representatives had our car ready for us when it was time to go. He pulled the car around, had the windows rolled down, blasted the air conditioning and air conditioned seats. Yes, I said air conditioned seats!! What a nice gesture in the 100 degree heat.

Driving Chevy Equinox
…And we were off! First thing first, we clicked our seat belts on and headed out of town. Navigating the city streets was a breeze thanks to the color touch screen navigation. The many safety features like onstar, lane change alert and rear cross traffic alert gave us peace of mind. Although we did seem to have our fair share of hiccups on the drive. An itinerary that should have taken us 3 hours took over 6 hours!
As luck would have it, we got stuck in Denver's rush hour traffic, held up in a few accidents on the tight mountain roads and then just as we were getting close — there was a fire that shut down the highway!
Although it was a beautiful mountain drive, after about 5 hours of bumper to bumper we finally gave up and pulled over to take a break and explore a small mountain town. It was the distraction we needed from the long rocky mountain drive.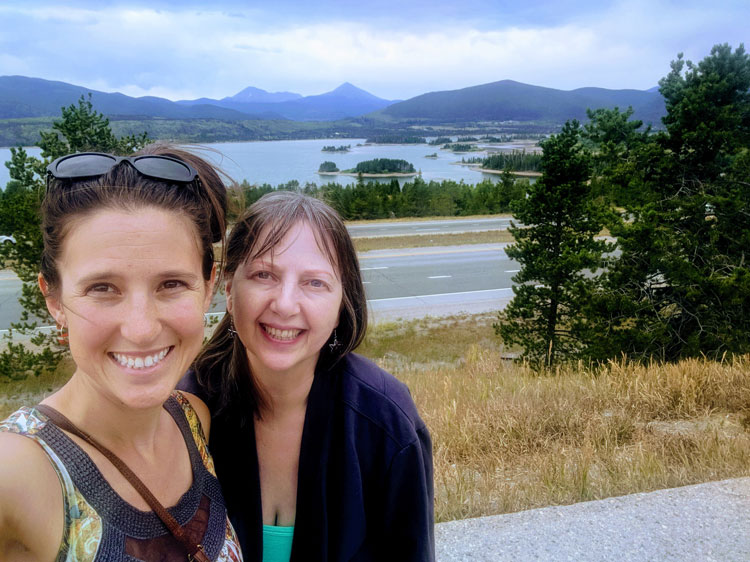 Thank goodness for my mom's positivity and Chevy's navigation for letting us know about traffic accidents and the highway fire! We were able to avoid them safely and got really lucky that we weren't involved first hand!
Side note: My mom wants to add that her bottom was never sore during the whole 6 hour drive! HA! She says the comfy seats might be the selling point for her! 🙂 Chevy gets bonus points on the spacious interior and comfortable seat cushions from my mom!
All traffic hassles aside, our drive through the city streets into the high altitude mountains – was a success. The Equinox did great through it all.
Chevrolet Technology
Once upon a time, I bought cars based on how it looked from the outside. Was it eye catching? That's really all that mattered to me. That's also when choices like automatic or manual windows were the extent of the technology. Fast forward to today and you will find that technology offered in vehicles changes quickly! I am in awe at all the cool features you can choose from in a car today.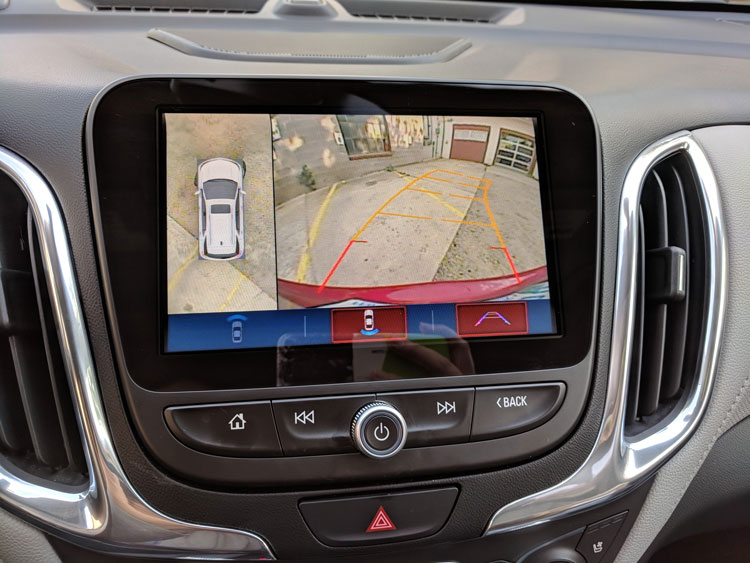 We were amazed at some of the technology features – like the Chevy Marketplace where you can pre-order gas and food from your car! The wifi in the car made us feel spoiled and our phones never lost charge – thanks to the numerous USB ports in the car. I think at one point we had 4 gadgets plugged in!
Potentially our favorite tech feature were the numerous cameras. Not only did the vehicles have the backup camera but it also had a surround vision technology, which showed the whole vehicle and immediate surroundings. We tested the cameras out as we drove backwards through a coned path!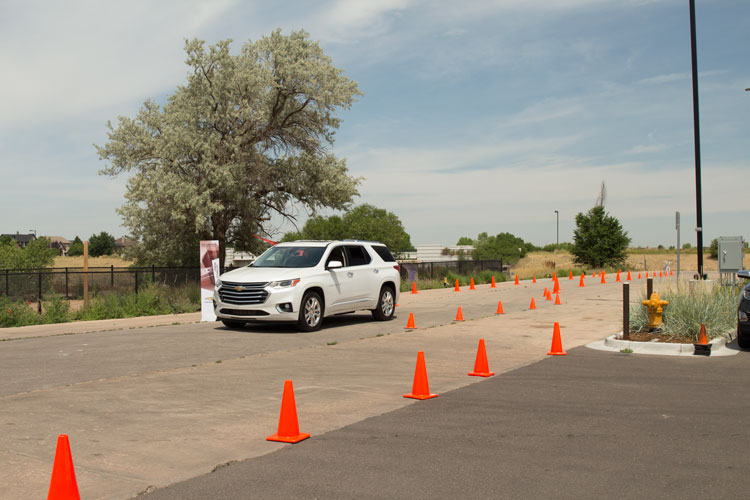 Tourists in Glenwood Springs
Eventually we made it to Glenwood Springs just as most restaurants were closing up, so we ordered take out and hit the sack. That didn't keep us from seeing the sights the next morning! Mom and I hit some of the big tourist spots without any shame.
We shopped downtown, hiked around and really enjoyed the soothing hot springs.
There is so much to do in Glenwood Springs. My favorite activities are hiking (the hanging lake hike is a must), rafting or stand up paddle boarding on the Colorado river, shopping downtown and visiting the many hot springs (there are paid and free hot springs).
If you like amusement parks with some thrilling rides – check out the Glenwood Caverns Adventure Park Resort. The Iron Mountain Tram takes you up to the park on top of the hill. It is quite the experience – you'd never know the roller coasters, mine drop or cliff swing was even up there!
Additionally, something else not to miss are the Glenwood Caverns. The stunning caves that were discovered in the 1800's. They are a thing of beauty. It's unbelievable but they are still discovering more underground tunnels! It's incredible!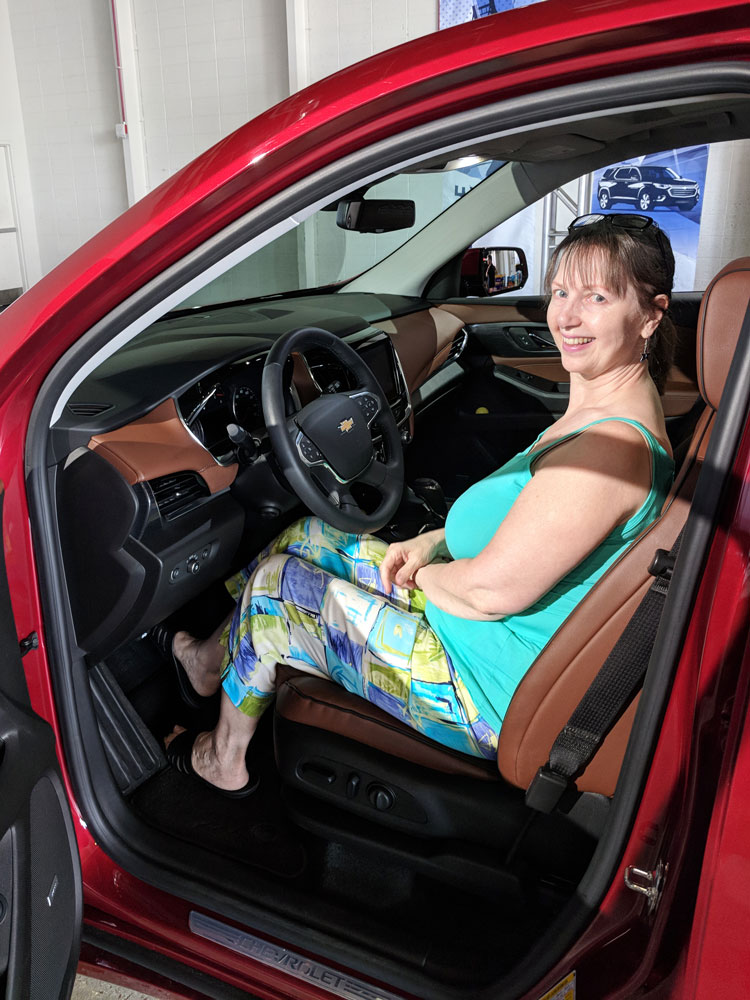 Mom also got her turn driving around the Chevrolet Equinox. She even had to do a U turn in the street when I gave her the wrong directions. Chevy turning radius for the win!
Final Thoughts on Chevy Equinox
Personally, it is hard to choose what my favorite part about driving the Chevy Equinox was. The birds-eye-view camera feature, the navigation, the Bose 7 speaker system, the wifi…the panoramic sunroof? How can I choose when this vehicle has features galore?
Having been without them since returning to my everyday driver really makes me miss them! Now mom is saying she's going to get the Chevrolet Traverse – so maybe I can drive hers! 😉
So to sum it up, I enjoyed the trip and my time with the Chevy. Everything from the fancy tech options, the comfortable seats and the large capacity trunk. What a wonderful experience we had — a mom/daughter trip to remember!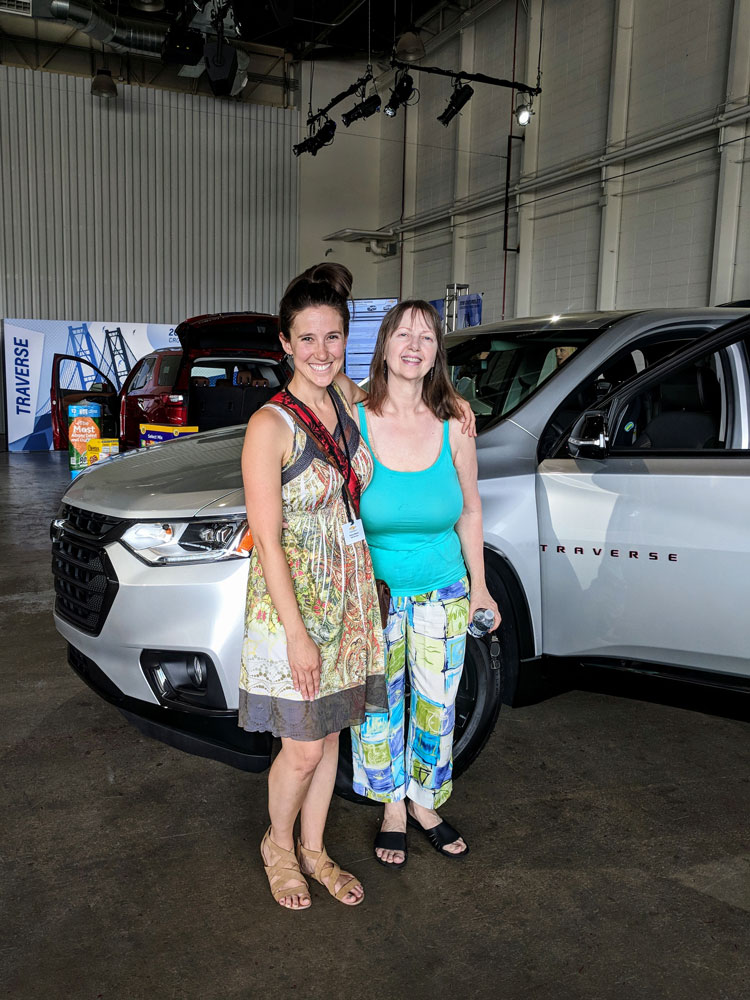 Thank you Chevrolet for inviting us to test the Chevy Equinox on an epic road trip to Glenwood Springs, Colorado. Vehicle, lodging and gift cards for food/entertainment were provided.