Disclosure: The
Red

Robin

information and gift cards have been provided by

Red

Robin

.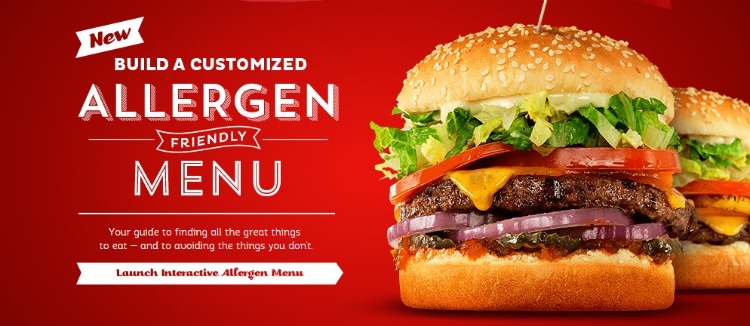 Did you know May is National Allergy Awareness Month?
It feels like I know more and more people who now label themselves as gluten-free, dairy-free, nut-free, etc… That Includes me!
Many of you know, that as a part of my IBS regimen, I need to be careful with what I eat. Right now I am doing an elimination-type diet and trying to track down some trigger foods. Having this chronic diseases makes me ever-so sympathetic for people with allergies, sensitivities or intolerances. It is said that 55% of the U.S. population tests positive to one or more allergens!
Restaurant Allergy Menu Preparation
If you have a food intolerance or food allergy, you most likely check the menu before heading to a restaurant. As for me, I am always deciding where to go and what to get – before I even walk in the door. If I don't, I could be there all day reading each ingredient listed! And if a restaurant doesn't have a good allergy menu? I will avoid it.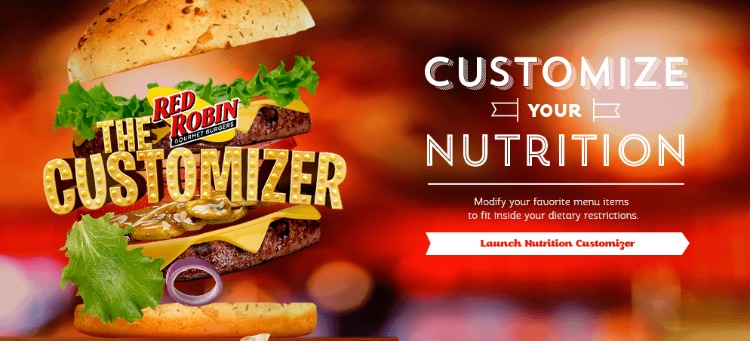 Red Robin Allergy Menu
Over the last few years, Red Robin has been a restaurant leader for accommodating people with food allergens. As far as gluten-free, they have been offering GF buns, protein-style burgers, sweet potato fries (fried in common fryer) for many years. In fact, AllergyEats, a leading allergy guide, has recognized Red Robin as one of the "Most Allergy-Friendly Restaurant Chains," for the last three years!
Red Robin continues to train their team members about food allergies (they use a bright, red and bold font on the order that notifies the kitchen to use a special allergen kit for the order). They also strive to have the most beneficial allergy menu for their customers. With frequent updates, the allergy menu at Red Robin is easier than ever for those with food allergies.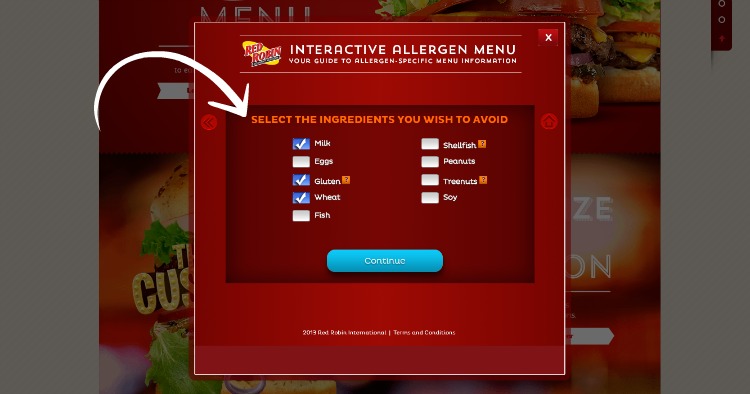 Check out the awesome Red Robin® Gourmet Burgers' Interactive Allergen Menu.
Red Robin's Interactive Allergen Menu is a detailed guide for finding acceptable food choices per common food allergies. It is accessible from a mobile device or computer and allows you to choose which allergens or ingredients to avoid. Once selected, the Interactive Allergen Menu builds custom dining options that fit your custom specific needs.
My experience with Red Robin's Interactive Allergen Menu
My husband and I set a date night to Red Robin to celebrate the end of a long week. Of course, as I always do, before heading to Red Robin, I checked out the allergy menu to see what I could eat and decide on what to order. I was impressed with the customized menu and the ease of use. I played with the allergy menu imputing multiple food allergies and seeing the food recommendations. It was interesting to see what ingredients some of my favorite menu items had.
As a part of my recommended IBS diet, I avoided gluten and wheat during my visit to Red Robin.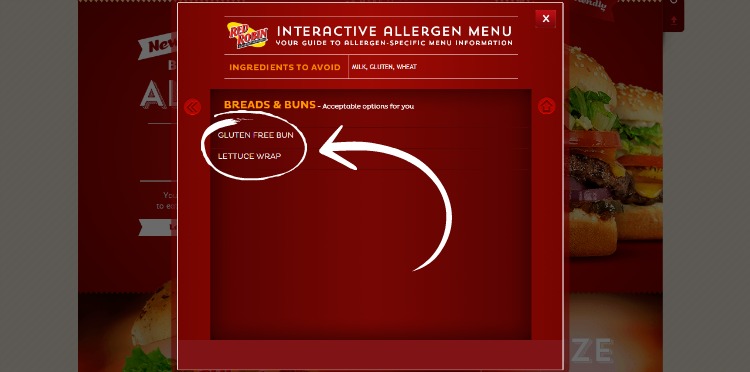 Since my husband was starving, we quickly ordered the Bar Wings n Yukon Chips with BBQ sauce for our appetizer. I noticed the interactive menu had this "CAUTION: Yukon Chips are Gluten-Friendly but may be Cross-Contacted during handling" and "CAUTION: Chicken Wings are cooked in a COMMON Fryer" under the item. I decided to stay away from them, and let my husband chow down. However, had I been hungry I could have ordered a few gluten free appetizers from the interactive menu.
Gluten Free Red Robin appetizers include: Chili Chili Con Queso (no white corn tortilla chips), Classic Mini Wedge Salad (No Bleu Cheese Crumbles, No Onion Straws). Guac, Salsa and Chips (no white corn tortilla chips), and Heck-Yeah Hummus Plate (No garlic bread).
*But personally, the apps menu is a little sad for GF folks. Two of the appetizers are without chips – and would be pointless without them…. I mean guacamole and salsa but nothing to dip them in?! I wish there was a substitute for them… Maybe they would substitute the vegetables that come with the hummus plate? IDK.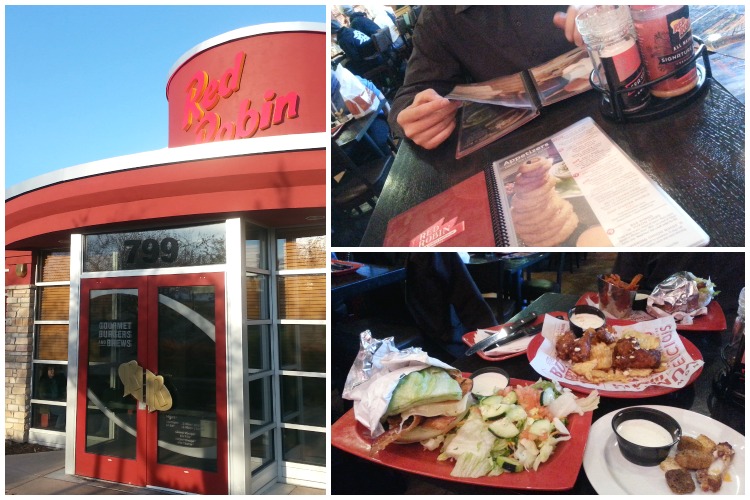 Anyway, I already had my main course picked out and was excited to dig in! I ordered the California Chicken Sandwich and got it wrapped in lettuce instead of the sesame bun. I also got a side salad instead of fries (because the fries use a common fryer). There were plenty of salad dressings to choose from too!
*Although I am not allergic to gluten, I am testing my intolerance level, and used the allergy menu as if I had a gluten allergy. Therefore, I didn't get a desert because everything on the dessert menu has gluten (no surprise there!). Overall, there were a lot of burger and sandwich options at Red Robin if you are gluten free.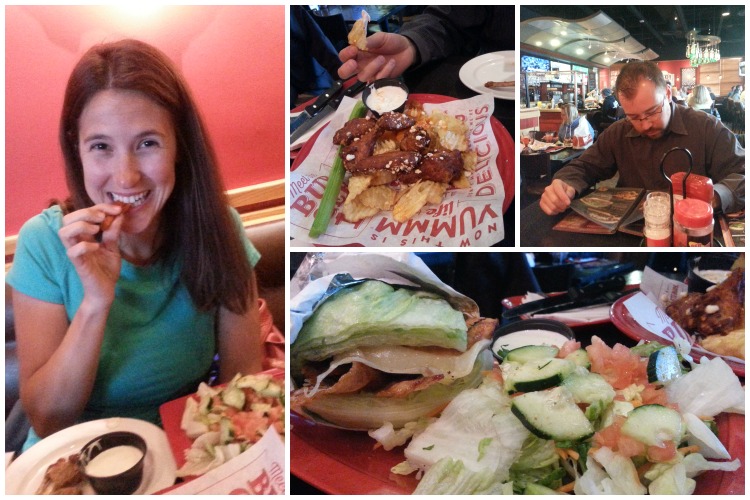 I have always loved Red Robin, I mean their burgers are to die for – and bottomless steak fries? But now that I have a sensitive stomach, I love them even more. I am thankful for Red Robin for having this allergy menu and for understanding how difficult it can be to dine in a restaurant with a food allergies (or intolerances)!
Red Robin Gift Card Giveaway
One lucky winner will receive a $25 Red Robin gift card (U.S. residents only, no P.O. boxes)! It's easy to enter! Just comment below by telling how food allergies have affected your family's abilities to dine out together. How the Red Robin Interactive Allergen Menu will help your family when eating out together. Or if you don't have a family member with a food allergy (or intolerance), tell me what you will order at Red Robin if you win the gift card!