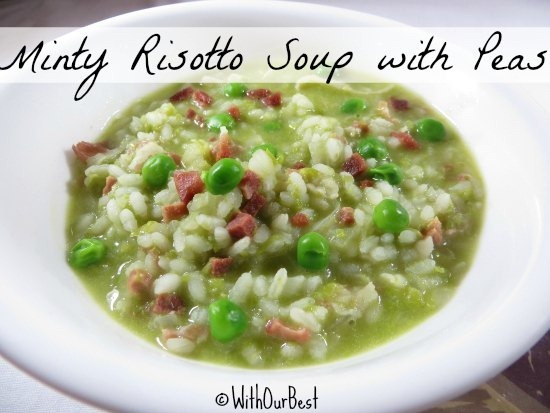 This week, I had a fun experience taking on a culinary challenge from Marx Foods (a online market with lots of fine foods and wholesale products.) This was my first challenge, and the theme for this challenge was: green. That's it! I was sent small samples of bamboo rice, dill pollen, green eston lentils, whole cardamom and mint herb crystals.
I used the rice and mint and got my green mojo flowing with this very green meal! It is a minty version of Risotto… I hope you enjoy.. it is really delicious!
Minty Risotto Soup with Peas

---

Ingredients:

2 tablespoons butter
1 finely diced onion
6 ounces of cubed pancetta
1 (10-ounce) bag of frozen peas
2 tablespoons of olive oil
3/4 cup of bamboo rice
5 cups of low sodium chicken (or vegetable) broth

2 tablespoons of mint herb crystals
Grated Parmesan Cheese
Salt and Pepper to Taste

Instructions:

1. Melt butter in a large saucepan. Add onion and pancetta. Cook on low heat with the lid on, stirring occasionally, until onion is softened.

2. Defrost/cook peas. Put half of the peas, a splash of broth and 2 tablespoons of olive oil in a food processor. Blend until puréed.

3. Add rice to the butter mixture. Stir well until completely coated with butter. Pour in the remaining broth and pureed peas. Simmer for 20-30 minutes, until rice is tender. Add the remaining peas, mint herb crystals and season with salt and peeper. Cook about 5-10 minutes longer. **Broth will soak into rice, if you like a thinner soupier soup add more stock as needed.

4. Ladle into bowls. Pepper to taste. Drizzle with grated parmesan cheese or leave off – I enjoyed it without, my husband added cheese – both ways are delicious!
**Note: This soup can be served as a main dinner dish or an appetizer! It is plenty filling and the mint gives it a uniquely tasty twist! Serves 4. Enjoy!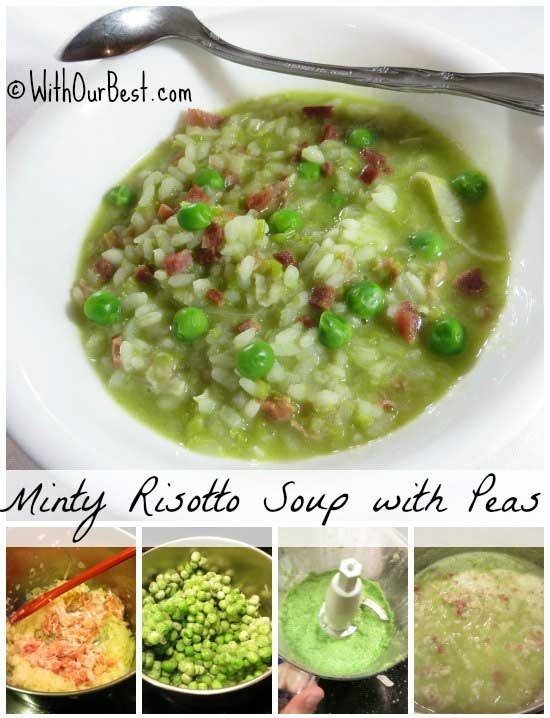 Disclosure: I did receive a sample from the sponsor for the purpose of this recipe. For full disclosure click here.