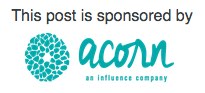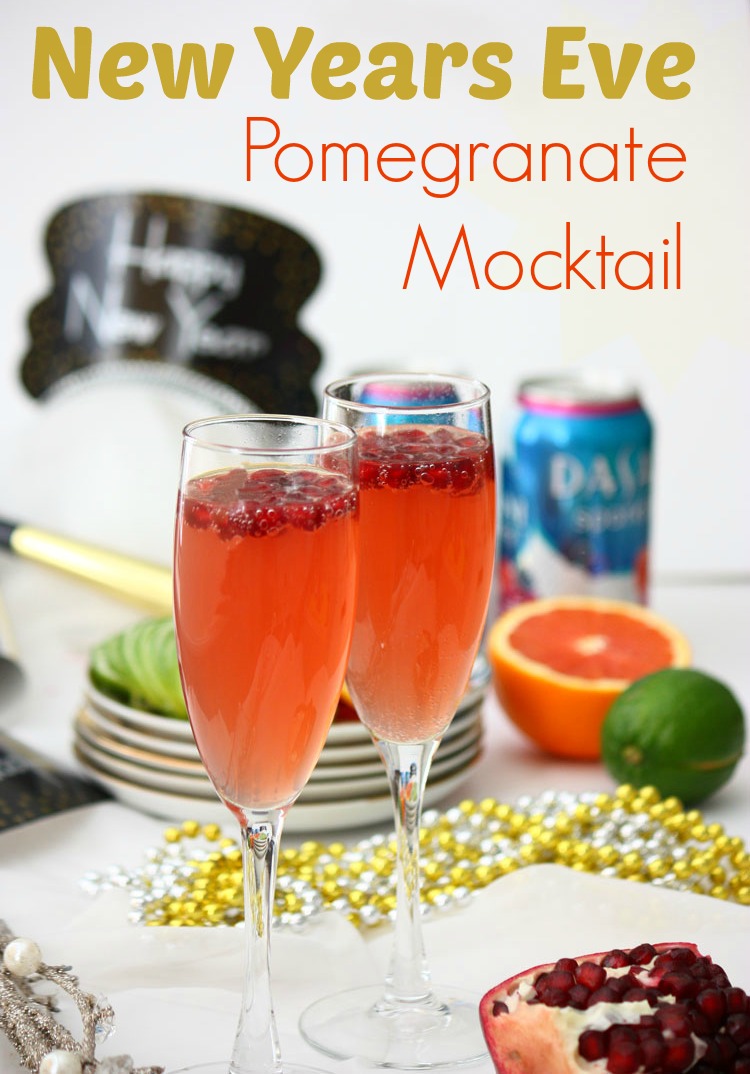 Have you decided on your New Years drink yet?
As for us, we are not big drinkers, rarely do we drink alcohol. Nothing against a champagne toast at a wedding or a mimosa for Sunday brunch. But frankly, the older I get, the less I can tolerate alcohol! Time after time has proven, I am much more happy with my flavored sparkling water!
Sparkling water has been our beverage of choice over the last few years. It is so versatile and soooo refreshing. It is not filled with sugar and has no artificial ingredients (depends on brand/flavor). It is more satisfying than just plain 'ol tap water – AND my doctor said you can count it toward your daily water intake! SCORE!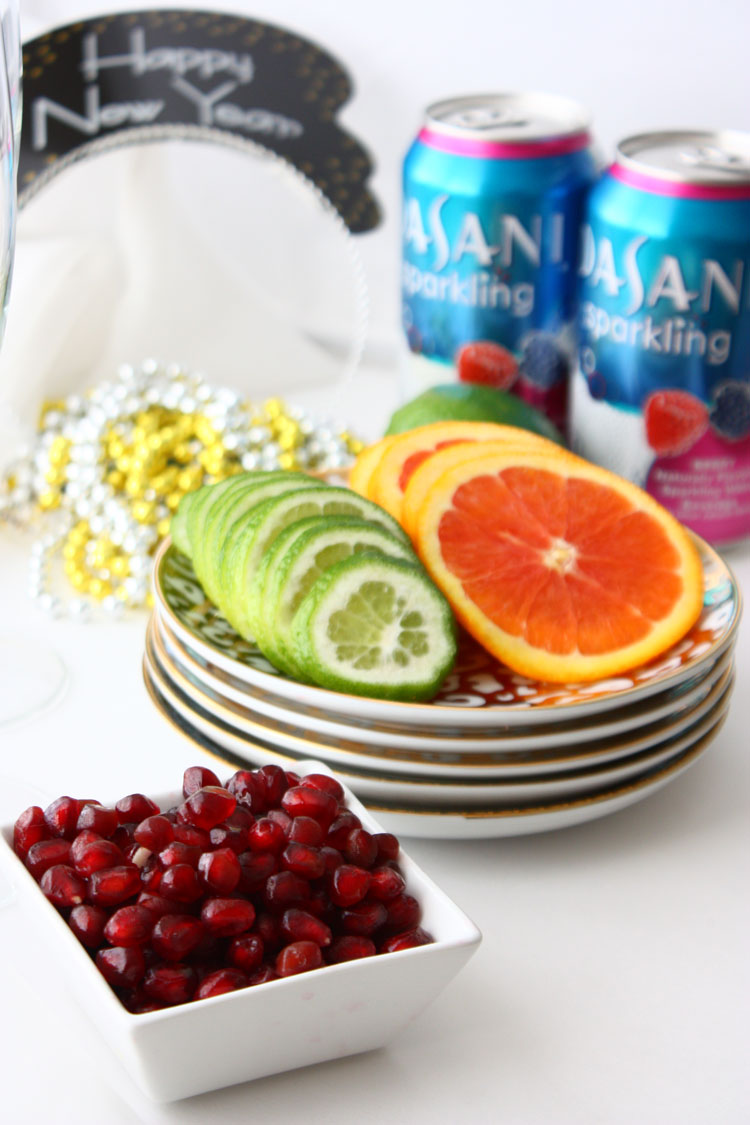 Sparkling water has become my drink of choice. So, it's no surprise that this New Years we will be drinking DASANI Sparkling Water. Since it is a special occasion, I will be jazzing up my sparkling water as a fun mocktail!
To get some ideas, I checked out some drink recipes online (dang, there is a lot of fancy sparkling water recipes)! Just look at all these festive drinks on this festive Pinterest board!
After browsing a number of great drink recipes, I came up with my Perfect New Years Mocktail: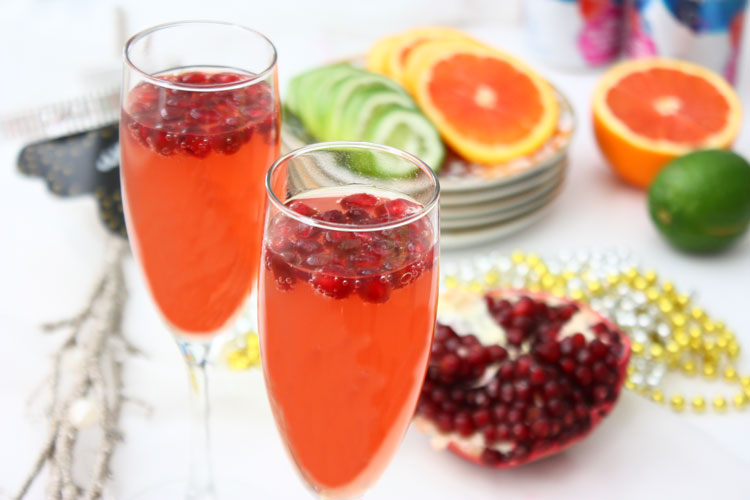 Delicious Pomegranate Mocktail
1 cup Pomegranate Juice (fresh or concentrate)
1 cup Blood Orange Juice (fresh or concentrate)
2 cans DASANI Sparkling Water, Berry Flavor
1 Lime
If desired garnished: lime and blood orange (thinly sliced wheels)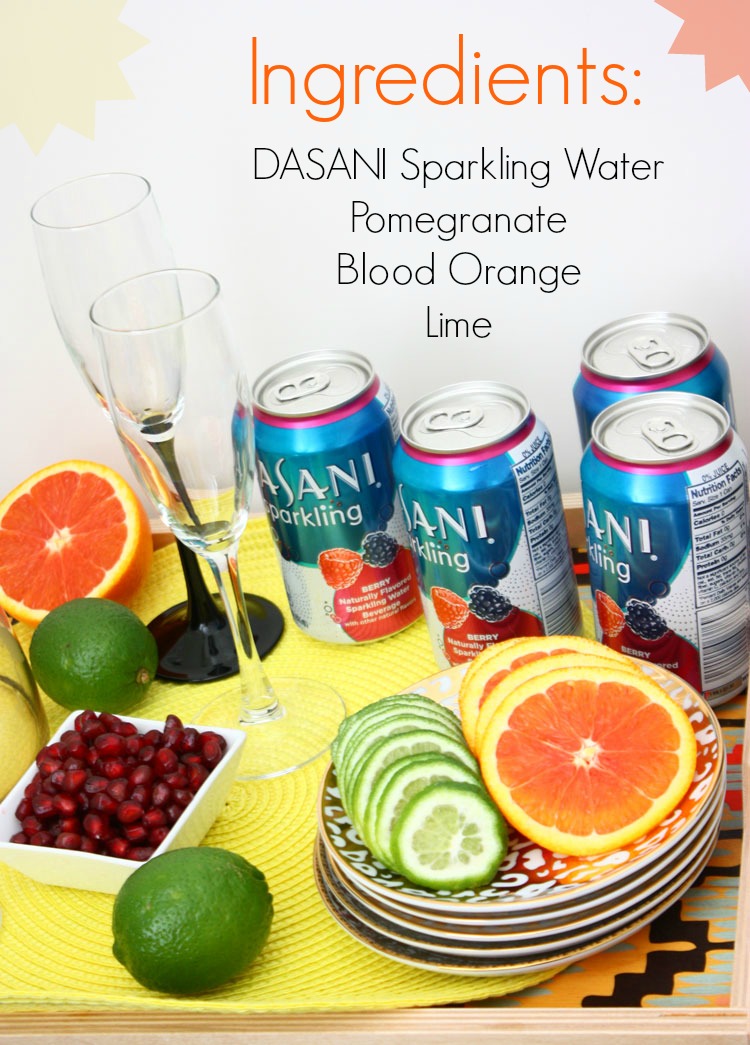 Directions
In a pitcher, combine pomegranate juice and blood orange juice. (You can always muddle and strain pomegranate seed and a blood orange if you do not have the juice on hand. It's easy!) Store in refrigerator until chilled. Once, cold, add chilled cans of DASANI Sparkling Water.
To each glass, add pomegranate seeds and a squeeze of lime. (The lime balances out the sweetness.) Slowly poor the juice from the pitcher into the glass flutes. Garnish with a small lime wheel or blood orange wheel. Enjoy!
*Note: Okay, okay. If desired, add alcohol. Vodka, rum or champagne would work well! Enjoy safely!
This pomegranate mocktail combines DASANI Sparkling Water, juice and infused fruit. When blended together, it turns into a refreshing and delicious beverage.
If you are skipping the alcohol this season, you don't have to feel left out thanks to this fancy New Years drink! It is an impressive mocktail that kids or adults alike will love sipping all night! This alcohol free pomegranate spritzer is the perfect drink to ring in the New Year!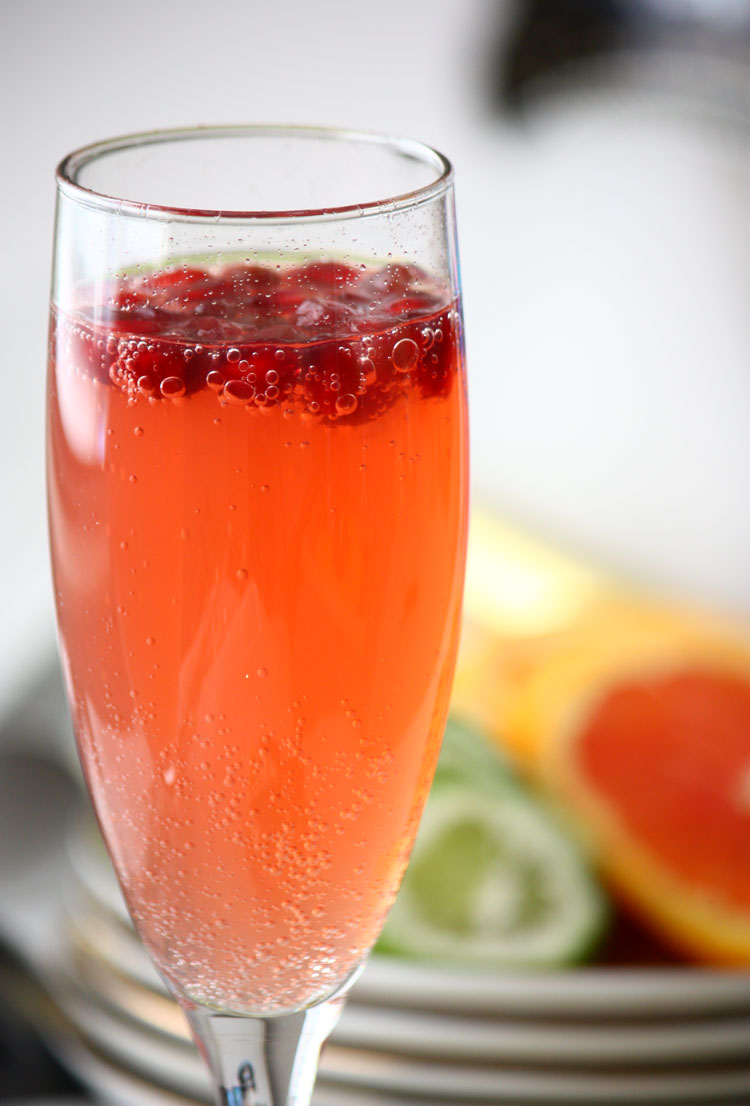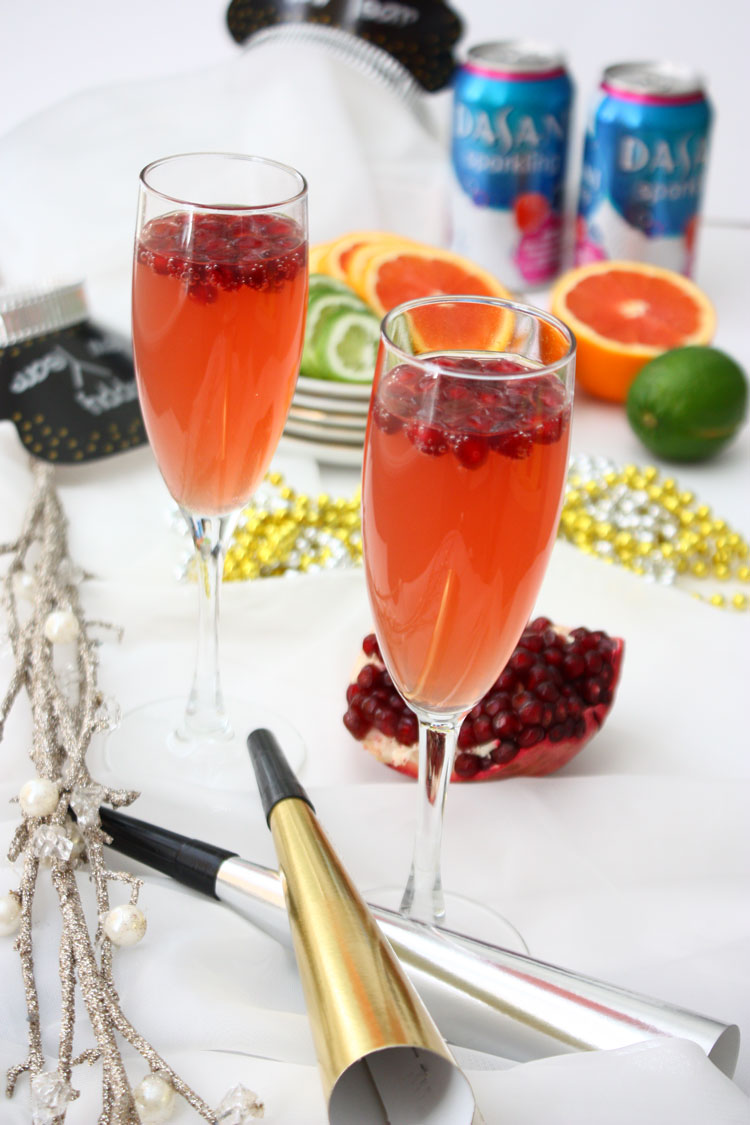 Not only is this mocktail gorgeous – but it is also good for you! DASANI Sparkling Water is the perfect mixer because it is zero calories, unsweetened, zero artificial colors and caffeine free! You can find DASANI sparkling water in a variety of grocery and superstores, including at Walmart in a 12 pack of 12 oz cans in these flavors: Lime, Berry, Black Cherry and Lemon.
When the clock strikes midnight…
The hubs and I will be sipping this mocktail in our Colorado mountain cabin. We will spend our New Years weekend with family and friends enjoying good company before the holiday season comes to an end! I look forward to a counting down til midnight and having no morning hangover! (Thank you, mocktail!)
Happy New Years! Here's to a healthy start to 2016!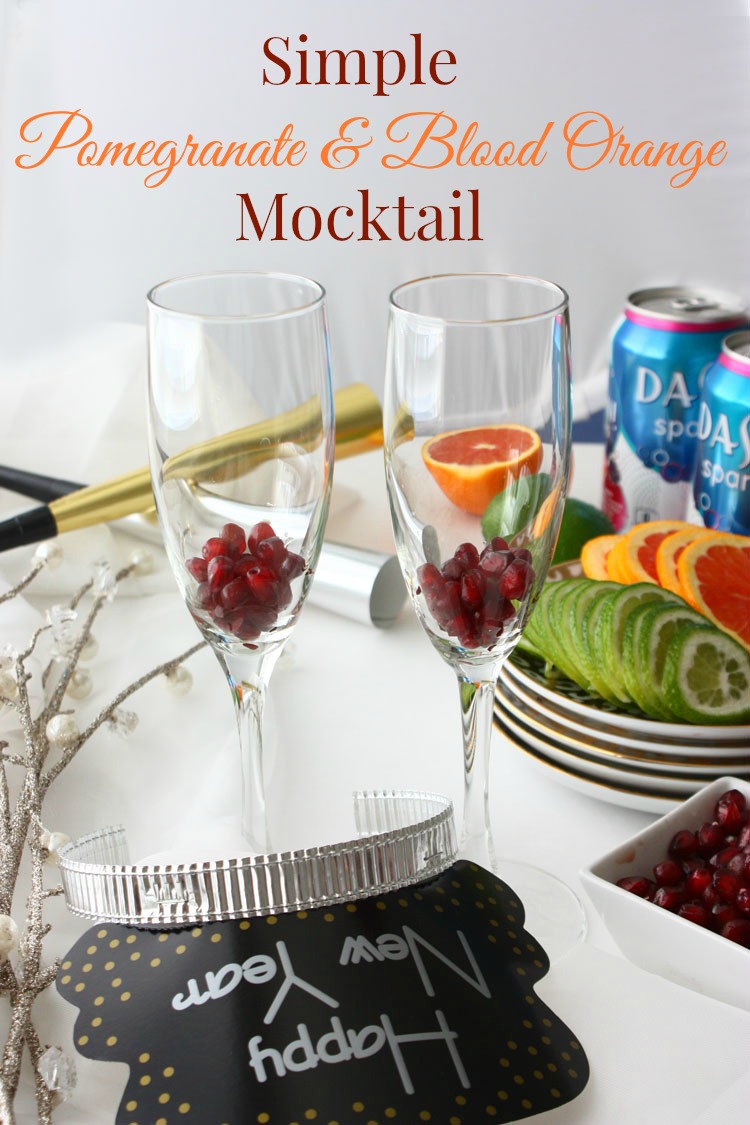 Whether you make this as a holiday mocktail or decide to liven it up as a holiday cocktail, you must be 21 to consume alcoholic beverages. When doing so, please drink responsibly. No drinking and driving, and no drinking and texting!