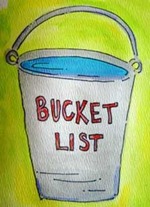 They're called 30 Before 30… 40 before 40… 50 before 50… a bucket list of life! Have you heard?
Basically,  I am 28 next month and only have 2 years before I am 30… and there is a lot I want to do in that time! I awhile ago I started a "30 Things To Do Before 30" list, and I thought I would share it with you! Since I started it awhile back, I have accomplished a few things on the list and have crossed them off. I will continue to cross things off until I am 30! It was fun making this list, and I sure hope to accomplish it!
My List of 30 Things to do Before 30

Learn how to use my Canon camera
Ok, my husbands Canon. Buy my own camera
Learn Photoshop
Alter my own clothing
Go to a Meetup! 2012
Have an all-girl Pinterest party
Kiss my true love on New Years 2009
Paddleboard
Swim with whales, turtles, sharks and/or dolphins
Re-learn how to knit
See baby turtles hatching
Go cross country skiing 2012
Make a map bulletin board and start tracking travels
Experience a show at Red Rocks Amphitheater
Fly a fun trip with my classmate friends (Raina & Steven) 2007
Be a Bridesmaid. Matron of Honor. 2010, 2009
Visit Africa, Australia and/or Antarctica
Grow a garden 2010
Read at least 100 books
Live in another state. Alaska. Colorado. 2007, 2009
Go to the Sand Dunes in Colorado
See the Northern Lights
Go to a blogger Conference
Improve my Spanish (Rosetta Stone?)
See the bats at the bat bridge in Austin
Learn how make Indian Food. Naan!
Yellowstone National Park
Visit Atlanta, Kona, St. Louis and Boston. 2012, 2012
See at least one Wonder of the World Machu Picchu, 2012
Learn how to make Thai-food. Pad Thai, 2010
I also have a long bucket list too! These are all the things I want to do before I die. I will share that one with you soon! (Although, I keep adding things to it!)
Readers: Do you have a Bucket List? Or something similar to my "30 Before 30"?