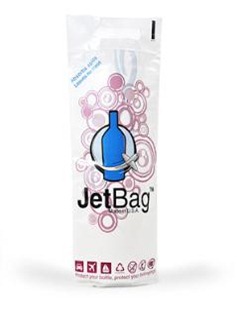 Who doesn't love Duty Free? Duty Free is a great place in the airport to browse and buy items, best of all you avoid paying taxes! I know we all like that! I especially love the Duty Free in other countries. They have the best deals on wine, purses, perfume and more! I have been known to come back from a trip with some dark chocolate bars and a bottle or two of local wine!
One risk you take when you buy Duty Free is breaking the wine bottle in your bag. Sometimes I won't even buy Duty Free because I don't want to take that chance. That bottle of wine doesn't seem worth it, if I am going to run the risk of it breaking and staining my clothes and other souvenirs.
Well NOW there is a solution! It is the Jet Bag! The Jet Bag is amazing! It is a padded (think baby diaper), zip-sealed bag that can absorb spills if they do happen– up to 750 mL of liquid!!

Traveling with wine is tricky – but the Jet Bag will help make sure your wine arrives safely! Your suitcase gets tossed, flipped, shoved, dropped and jostled during it's journey from the ticket counter to the luggage belt. Not to mention the rocky ride that it might have inside the airplane compartment!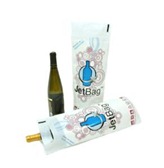 The Jet Bag Will Protect Your Valuables in Flight! There is no way to avoid the rough ride for your luggage, so make sure to wrap up your wine in you clothes and other padded items and keep it in secure in the Jet Bag. Because if your wine does break during the journey, at least the Jet Bag will ensure your clothes and other valuable won't be ruined!
A wine travel bag like the Jet Bag is an inexpensive and  lightweight solution to give you the ultimate protection for your breakable purchases. I highly recommend this inexpensive, lightweight, safeguard solution!
Disclosure: No compensation was given for this review. I did receive a sample product  from the sponsor for the purpose of this honest review. All opinions are 100% my own. For full disclosure click here.