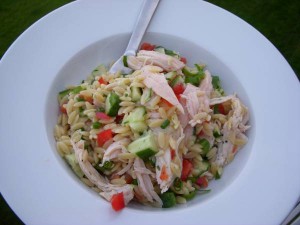 Now that summer is here, I find myself avoiding the oven and trying to find fresh, tasty recipes for those warm and breezy evenings. I was flipping through my Cooking Light magazine and came across this Orzo Chicken Salad recipe. It turned out great and by the time we were through with dinner last night my husband was asking if I would make it again soon. Orzo, Chicken, Lemon… it was simple, colorful and full of flavor!
Ingredients:
3/4 cup uncooked orzo
1/4 teaspoon grated lemon rind
3 tablespoons fresh lemon juice
1 tablespoon extra-virgin olive oil
1/2 teaspoon kosher salt
1/2 teaspoon minced garlic
1/4 teaspoon honey
1/8 teaspoon freshly ground black pepper
1 cup shredded skinless, boneless rotisserie chicken breast
1/2 cup diced English cucumber
1/2 cup prechopped red bell pepper
1/3 cup thinly sliced green onions
1 tablespoon chopped fresh dill ( I used a few dashes of dry dill)
1/2 cup crumbled goat cheese
1. Cook orzo according to package directions, omitting salt and fat. Drain and rinse with cold water; drain and place in a large bowl.
2. while orzo cooks, combine lemon rind and next 6 ingredients (through black pepper), stirring well with a whisk. Drizzle juice mixture over orzo; toss to coat. Add chicken and next 4 ingredients (through dill); toss gently to combine. Sprinkle with cheese.
Yield: 4 servings