Disclosure: This is a sponsored post about Enterprise CarShare.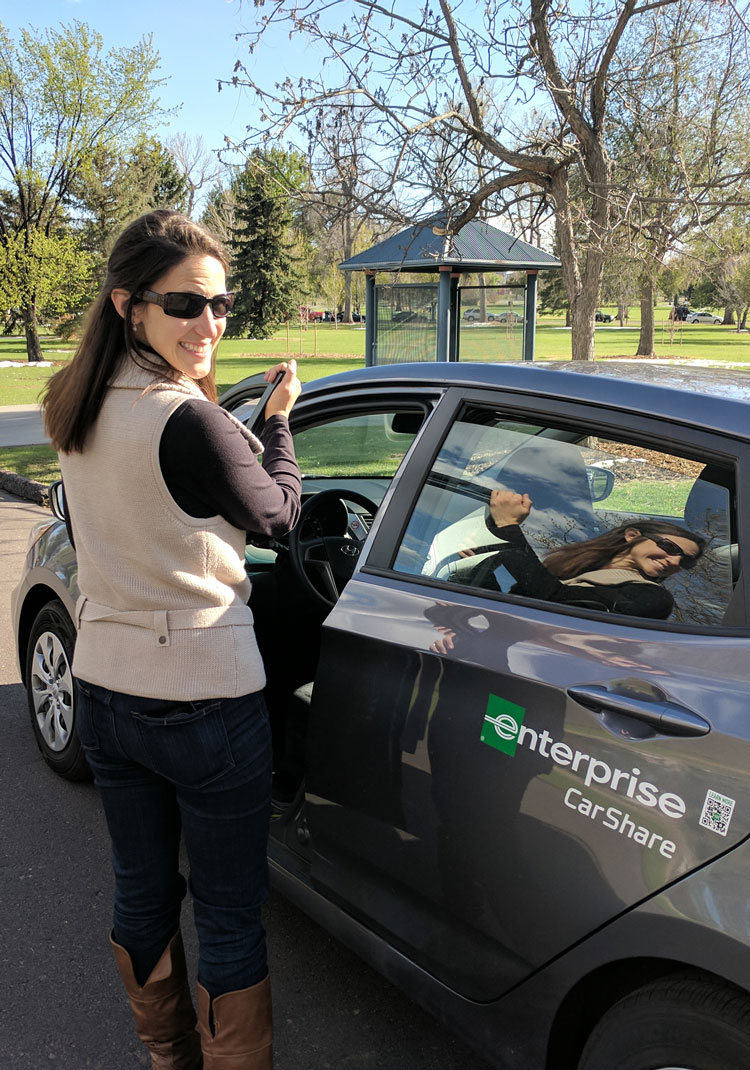 Have you heard of Enterprise CarShare? Rather than owning or constantly renting a car, an alternative option is to rent a vehicle as needed (by the hour or for the day).
Enterprise CarShare is a convenient car share service that is growing nationwide. So far, Enterprise CarShare is available in the United States, Canada, and UK! I used Enterprise's car share service for the first time in downtown Denver last weekend. It was easy, efficient and actually quite fun!

My Experience with Enterprise CarShare
It could not have been easier to find a car that was available close to me. There are so many cars all over the Denver metro area (also in University of Denver, Regis University, Auraria Campus and more) to choose from! There was even a truck nearby I could use for the day! That's handy!
I booked the car for my needed time frame and followed the walking directions on the app to find the car. I located the car right away, there are plenty of decals on the vehicle stating Enterprise CarShare and there is a parking sign just for the car!
Since it was my first time using this car-to-go type service, I didn't quite understand how unlocking the car would work. (And I didn't read the instructions that were on the back of my card…) Anyway, it had just snowed the day before in Denver, so the car was covered in snow. After scraping all the snow from the windshield I finally discovered the card reader to unlock the vehicle, YAY!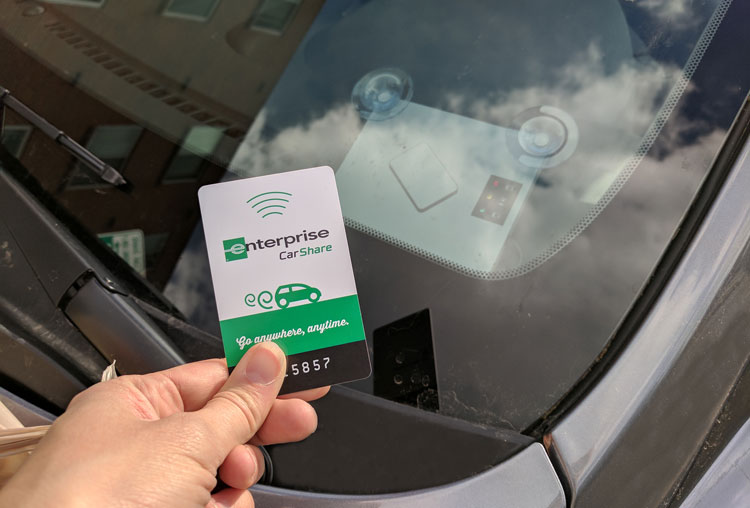 The first thing I did after unlocking the car was check for damages. There is a handy damage evaluator in the glove compartment. Since there were no dents, dings or scratches to report, I got on the road!
I used the car to run some errands that were a decent distance out of town. I picked up groceries, met a friend for lunch and got some fairly heavy items from the hardware store. I could not carry all this stuff had I been on foot or bike, and it would be very inconvenient on the city bus. It was nice to use the car to run some errands.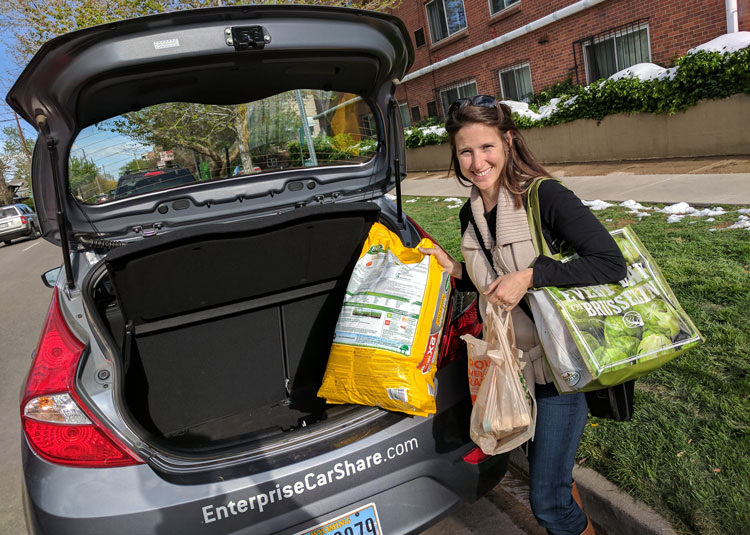 I imagine this car sharing service will also be nice for visiting my family that lives out of town, for a weekend road trip, getting out of the city limits or if I had an emergency late at night and didn't want to wander the city in the dark (after all these cars are accessible 24/7). The car share idea would also be awesome to use when traveling to other cities – like New York, San Francisco or Chicago.
After a great experience with Enterprise CarShare, I now see how useful this service is for when I need to rent a vehicle by the hour, day or overnight. What a beneficial program to have in college towns and big cities! I will definitely be using the Enterprise CarShare program in the future!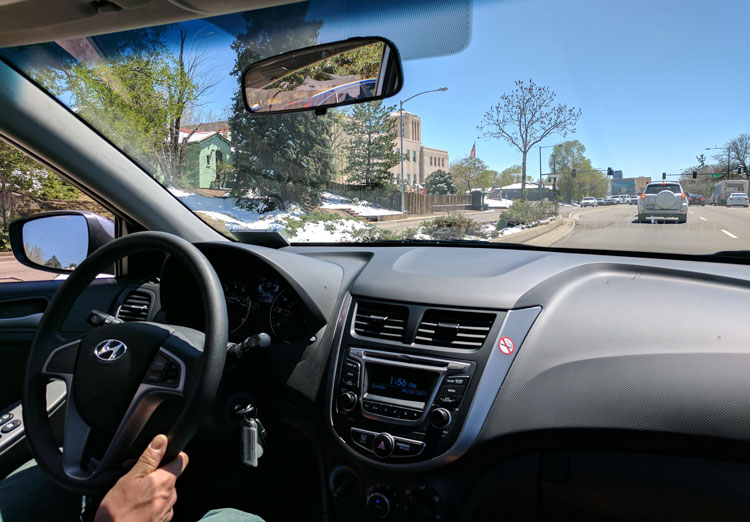 Get Started with Enterprise CarShare
To begin your car sharing journey, first you apply and get approved. It is a quick process. I signed up (just a single page form) in less than 10 minutes. Once you are approved (my approval took 5 days) you will be mailed a personalized membership card to use for your Enterprise CarShare.
As painless as that – you have access to the Enterprise CarShare network for hourly or daily rentals 24/7!
Download Enterprise CarShare App
The easiest way to use the Enterprise CarShare service is with the app. There is an app for Google Play and the Apple App Store – it is called Enterprise CarShare. Within the app you can reserve a vehicle for future use or find a car near you right away! It is easy to make, change and extend reservations on the app.
Reserve Enterprise Car Share
The reservation process is easy for this temporary car rental. There are two ways to reserve a car, either from EnterpriseCarShare.com or the Enterprise CarShare app (see above). Log in with your member ID and password, select the car you want and reserve! It's that simple!
Prices vary depending on city, but in Denver hourly rates for CarShare are about $7-$10 and daily rates start at $35. This includes fuel, physical damage/liability protection and 24/7 member service.
How to Unlock the Enterprise CarShare Rental
To unlock the car, you will use your Enterprise membership card. Locate the card reader on the windshield and swipe your card over it until you see a yellow light. The reader will go from red to yellow and then to green (unlocked). Magically, the car doors unlock! To drive the car, you will find the key in the glove compartment.
Tips For Using Enterprise CarShare
Don't Forget Your Card – This is so basic, but always carry your Enterprise CarShare member card with you. You will need it to access vehicles. There are many cars all over, so you don't want to be without when you are in time of needing a car ASAP!
Use the App to Locate Your Car – I found the app to be so useful for finding out where my Enterprise CarShare was parked. I pulled up the map and it gave me walking directions straight to the car!
Read the Member Handbook – There is a handy booklet in the glove compartment that gives you details on using the car share service. It takes 3 minutes to read. Do it!
Fuel it up for Free – Make sure to leave enough gas for the next driver. If the gas tank is under ¼ full, fill it up with the gas card that is provided by Enterprise which is in the glove box. It's car sharing so share the love by leaving a full tank!
24/7 Member Service – If anything goes wrong the member service is easy to reach by phone or email. I talked to them a few times and got through right away! They are so nice! Phone: 855-383-1212 or Email: [email protected].
What to Do When Returning Enterprise Car Share
If you need to extend the reservation or if you are returning the car early, you can change your reservation easily on the app or online.
When you return the car, you'll be returning it to the same spot you picked it up from. This is nice because it is a guaranteed parking spot! Just gather all of your belongings, place the key back in the glove compartment and lock the car the same way you unlocked it in the beginning of the rental. When you see the card reader light turn red, the doors will lock and your rental has ended.
More Information Enterprise CarShare
If you're interested in trying the program, you click this link to join for $0 and receive $20 in driving credits: http://bit.ly/Share17-US
You can explore the site for further information and to see if there vehicle pickup locations near you! Connect with Enterprise CarShare on Facebook, Twitter, and Instagram.
Recap video of how Enterprise Car Share works!