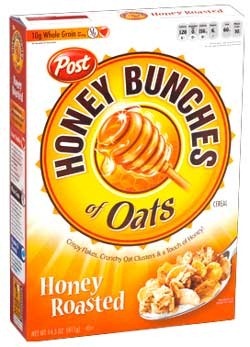 As a kid my favorite cereal was Honey Bunches of Oats. And still today, my favorite cereal is Honey Bunches of Oats! I guess my tastes have not changed in the area of breakfast. It appears I can't get enough of the delicious multigrain flakes, the crunchy oat clusters and the sweet honey roasted flavors.
Growing up we only ate the classic Honey Bunches of Oats cereal flavor. But now-a-days the store shelves are full of the tasty Post Cereal brand. Cereal lovers can enjoy the morning with the options of Honey Roasted, Almond, Cinnamon, Strawberries, Peaches, Pecan, Raisin, Banana and Vanilla Bunches!
Bunches of bunches of flavors… that was always my little gripe I had with Honey Bunches. I felt like since their name had the word "bunches" in it, they really should have more bunches in them! It seemed the multigrain flakes were the majority! Well, even if I didn't request it personally, obviously other people felt the same way! That is why Post Cereal has improved their brand and is now including more bunches! Not only are they adding more delicious granola bunches to each box… I also found out there is a cereal box of JUST BUNCHES! Amazing!
Lucky for me, I got to try the new improvement on my favorite cereal and see if more bunches really do improve the already great taste.
I tried the Honey Roasted original flavor (the one with the yellow label). Before tasting my first bowl, I shook up the box so the ingredients would be mixed – sometimes I find all the goodies have fallen to the bottom. Had to get a fair test-bowl if not, right? :). The results? YUM!
Like I said before, this is my #1 cereal, so I knew very well the amount of bunches per cereal bowl pour, and I can gladly say, they've added more! The variety of the combinations are delicious! More bunches = better taste! These bunches are the best part, crunchy and sweet – and don't get soggy as fast as flakes! I am excited about the improvement of the Post Cereal Honey Bunches of Oats!
Buy Your Own!! Honey Bunches of Oats made by Post Cereals are available in grocery stores nationally for a suggested retail price of $3.89.
Win Your Own!! A whopping FIVE winners will win a FREE cereal coupon! Just enter the form below!
:: Giveaway ::
** Please leave your entries using the above Rafflecopter form. It might take a bit to load. **
Disclosure: No compensation was given for this review/giveaway. I did receive a sample product from the sponsor for the purpose of this honest review. This did not affect the outcome of this review. All opinions are 100% my own. For full disclosure click here.