'Tis the season for all of the holiday event invitations! From the standard Christmas work party, to your favorite annual cookie decorating with friends, and then your wild neighborhood social gathering. I've got some simple ways to get glam quick before any holiday event!
Whether you are wearing a formal floor length gown or your funniest ugly sweater, these tips will bring your look together to become polished and complete.
Bling Up with Jewelry
Jewelry can add perfect flare to any look. I love that even when I am casually dressed, I can become instantly more put-together if I am wearing a little jewelry (and with such little effort too).
Finish your outfit with the right jewelry for your night out! Bring together your formal look with a large statement piece. Look elegant and refined with delicate diamonds or light slender necklaces. The Birthstone Capsule is a great way to show personality and charm – showing off the month that means the most to you. Wearing birthstones is a unique way to personalize – and glam up your look at the same time.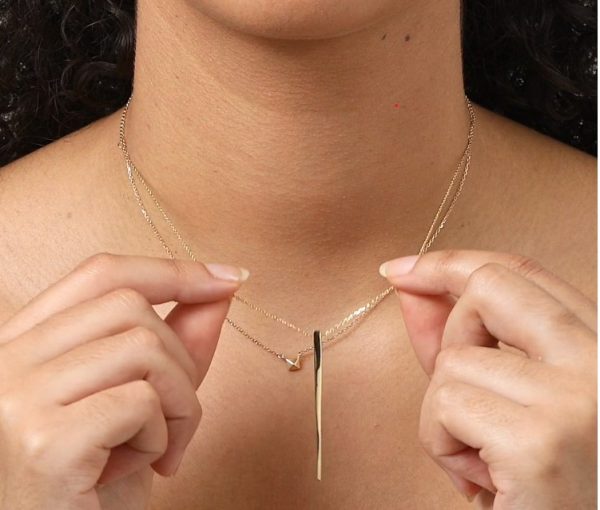 One of my favorite jewelry items, is the Obelisk Pendant (which I wear all the time) from AU-Rate, a fine jewelry company that believes in offering high quality, sustainable jewelry made with ethical gold and diamonds. I wear this necklace casually and VERY regularly. The great thing about this necklace is it looks dressy for when I am dressing up!
Hair Care & Hair Flair
Eye-catching hair styles aren't always complicated. Some of my favorite resources for party hairstyles are from YouTube and Pinterest. Thank goodness for the YouTubers like (Alex Gaboury and Abby Smith ) that make it easy for me to follow and get the look myself!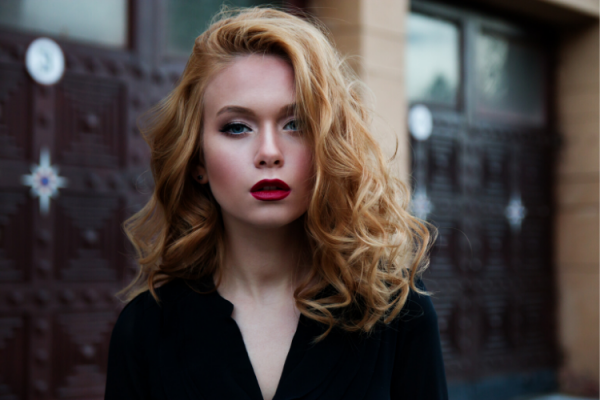 Top Holiday Party Hair Styles Include:
Big curls.
Holiday Glam Sexy Waves.
Side-swept double braid.
Sleek High Pony.
Fishtail Ponytail.
Fishtail Braid Half Updo.
Twisted Bun.
If you want to keep it quick, you don't have to sit around watching tutorials, just style yourself and add some bling – play around with adding sparkly barrettes or classic vintage pins. A few statement hair pieces will add stunning details to your up-do or basic locks.
My go-to hairstyle that has never let me down and keeps me looking polished is a low ponytail with a statement clip. Sometimes I settle for a simple flat iron straightened look with glossing conditioner or Moroccan oil to make it sleek and shiny.
Focus on your Face First
So often we neglect our face – even though that is what people are looking at the most! The good news is, your face can be forgiving if you focus on it and give it some love. My best tip to shape up your face fast is give it some moisturizer.
Your tighter, bright and more moisturized face will thank you if you invest in some high quality Vitamin C Serum. Vitamin C is a powerhouse when it comes to reducing inflammation, irregular skin pigmentation and collagen production. It will brighten your skin and make you look refreshed.
I recommend these awesome moisturizers with Vitamin C: Volition Strawberry-C Serum, Tatcha Violet-C Brightening Serum and Neogen Real Vita C Powder Lemon
Freshening your winter skin is so important and you can do this by finding a good moisturizer. Use this ever day after you wash your face and you will notice a difference in a short few days. It is such a simple thing but will make all the difference and give you instant bright and glorious skin-care gratification. Some of my favorite moisturizers for the face are: Neutrogena Hydro Boost Gel-Cream, Aveeno Ultra-Calming Nourishing Night Cream and SkinCeuticals Triple Lipid Restore 2:4:2
Best of all, when you use the right facial products like Vitamin C and moisturizer you will reduce wrinkles and fine lines into the future.
Spice It Up with the Right Shoes
High heels can make a bold statement to your party outfit. There are so many unique shoe options these days, it is amazing! I am all about comfort and style, so you won't see me in 3+ inch heels… but they sure can add the right amount of drama to an otherwise boring outfit!
Heels, wedges, pumps, stilettos, slingbacks, platforms… Oh my! I've got some great holiday party heels for sale on my Poshmark @WithOurBest – like these Sam Edelman Ankle Strap Pumps.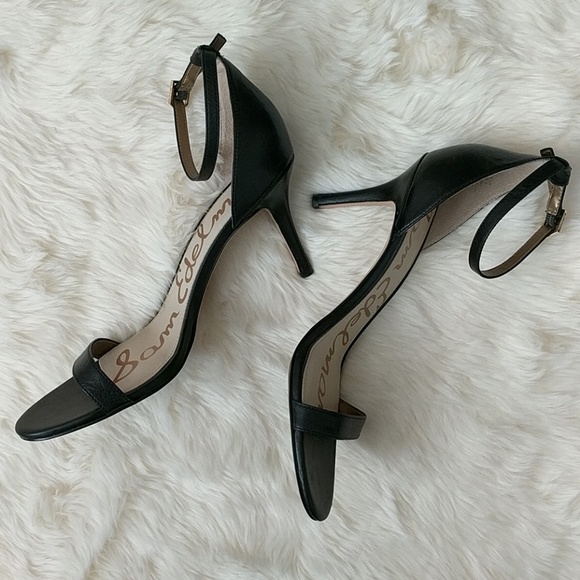 Overall, it is not hard to add some pzazz with these simple tips – that make a big difference for your holiday style. Although the outfit is often considered the biggest feature, when you focus on the little things like jewelry, shoes and caring for your skin and hair you'll know doubt feel powerful and make a statement this holiday season!
Disclosure: This post is in partnership with Nakturnal. This post contains affiliate links, thank you for supporting my blog!