In my previous post I talked about how I was having a party catered by Souplantation and Sweet Tomatoes. Well the party is now over and I want to share my full experience of the event with you. (For details on my experiences prior to the event see my Part I Post.)
The party was held this past weekend on October 30th. It was a Halloween-themed get-together. The party started at 6:00pm, so Cole (the Sweet Tomatoes catering manager) thought it would be best to bring the food in right as the party started. The reason being that the ingredients are all fresh, and should be that way when they are served. Also, the soups and pastas needed to remain hot but didn't have warmers, because they are designed to be served immediately.
Here is the Sweet Tomatoes Staff bringing the food in:
Sweet Tomatoes promptly showed at my door at 5:56pm with what looked like food for 50 (look at the huge black containers)! I directed them to where the food and drinks should go – and then they took over. They pulled out dish after dish of delicious-looking healthy items.
Including: Chicken Wonton Salad, Cornbread Muffins, Minestrone Soup, and much more!
My mouth watered as I waited for the first guest to show. Apparently my friends like to be fashionably late, as they arrived at 6:19pm. Once they saw the large spread of the hot and cold fresh food items, it didn't take long for us to begin taste testing! 
We made our way from the tossed salad to the cold pasta and broccoli salads, baked potato and toppings selection, hot soups, breads and assorted muffins, and finally to iced tea and lemonade. We added a little Halloween touch by putting the drinks in a big witch's cauldron and added dry ice to provide the spooky look!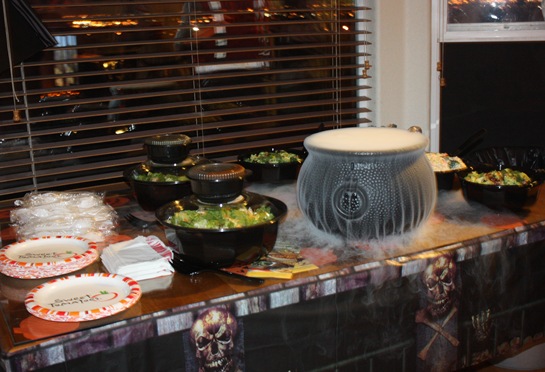 They literally took care of EVERYTHING! We were covered with all of the salads, breads, soups, drinks and even cookies for dessert! I can't believe $9 per person can get you all this food! They always include drinks, plates, napkins, utensils, cups and set up in the price as well. 
My friends and I enjoyed the food. There was a lot of compliments on the cream of broccoli soup. Some were surprised they had never heard of the restaurant and were now eager to go for a cheap all you can eat dinner!
Overall, Souplantation and Sweet Tomatoes were professional and easy to work with. I would trust them to satisfy the guests of any future parties or events. From the timing of the food, the temperature of the food, and most importantly the taste of the food – it was done very well.
Souplantation and Sweet Tomatoes is giving my readers a great coupon on catering! Click on the coupon below and print it out to redeem 25% off you entire catering order – from now to December 31, 2010. With this great of a coupon, you can't help but consider Sweet Tomatoes for your holiday catering needs!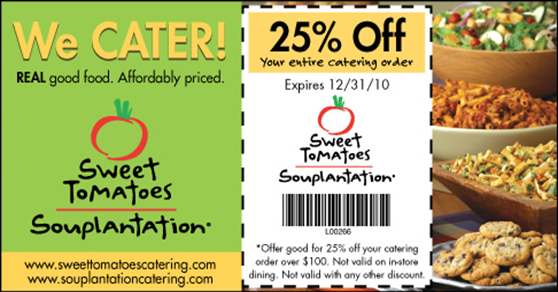 Disclosure: This post was written for Sweet Tomatoes. I will be received complimentary catering for the purpose of this honest review. This did not affect the outcome of this review. All opinions are 100% my own. For full disclosure click here.