I am impressed. I am thoroughly impressed with this environmentally-friendly coffee company, Grounds for Change. If their company name doesn't speak for itself, well then, let me! So first I am going to brag about the company itself….
—— Organic —— Shade Grown —— Fair Trade Certified —— Carbon Free ——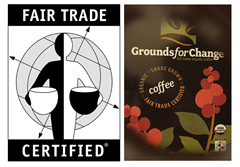 The farmers use really neat conservation practices which help them  cultivate their coffee with minimal impact on the surrounding ecosystem. Take the fact that this coffee is "shade grown." So what does that mean exactly? Well while most coffee growers will take down forest areas in the climates where coffee grows well, Grounds for Change realizes that it's better for the environment (and the taste of the coffee) to let the coffee trees grow under the natural shade of hardwood trees! So not only is this more ecologically friendly but it allows the coffee to grow as it was intended, under the protective shade of tropical trees!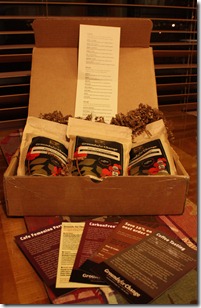 As we all know, more and more consumers are not only asking "Is this good for me?" but also "Is this good for the workers and the environment?" According to a recent study, 90% of Americans say it's important for companies to be mindful of their impact on the environment and society and 70% say they're more likely to support companies that do! The growth of Fair Trade products proves that consumers are voting with their purchase for a better world and demanding sustainable, ethically sourced goods nationwide.
Fair Trade coffee supports a better life for farming families in the developing world through fair prices and community development. Fair Trade basically helps small operation famers prevent large operations from dictating what price they have to sell their product at. It's a market principal that sustainability advocates can get behind. Grounds for Change gets behind this concept 100% and I definitely applaud their efforts.
Now about the coffee… The aroma of the whole bean organic coffee immediately filled our kitchen as we opened up the package we got from Grounds for Changed.  My husband (he's the coffee drinker) was really excited to get at this coffee once he had a few whiffs!! We made sure to store the coffee in its whole bean form in an airtight container at room temperature and once my husband ground some up for his morning cup of coffee here are some of the things he had to say: "It's not over roasted, no burnt beans like we unfortunately always seem to get with some of those other brands!" He also told me that he likes the "excellent" smoothness, full body, and "syrupy finish" the Agate Pass Blend had. As if that wasn't enough he told me that he likes this coffee because it tastes like super fresh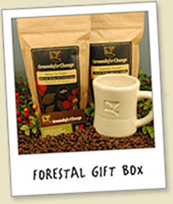 farmers market coffee and has much fuller flavor than the more popular brands found in every store!
So…one last thing before I sign off on this select scrumptious super bean coffee! Christmas is just around the corner and if you have a coffee lover in your family then you've already been thinking about how PERFECT of holiday gift option Grounds for Change coffee would be!! Your family or friends are going to love Grounds for Change's ethical business model paired with the delicious coffee in the assortment of gift boxes that Grounds for Change has to offer! Check it out at http://www.groundsforchange.com and let us know what you think!!
Discount Code!! Enter the coupon code: HK98 at checkout by Februrary 28, 2011 to save 10% on your entire order! This includes everything in the online catalog and includes sale items!!
[Product review & giveaway disclosure: I received one or more of the products mentioned above for free using Tomoson.com. Regardless, I only recommend products or services I use personally and believe will be good for my readers. I am disclosing this in accordance with the Federal Trade Commissions 16 CFR, Part 255 "Guides Concerning the Use of Endorsements and Testimonials in Advertising."]