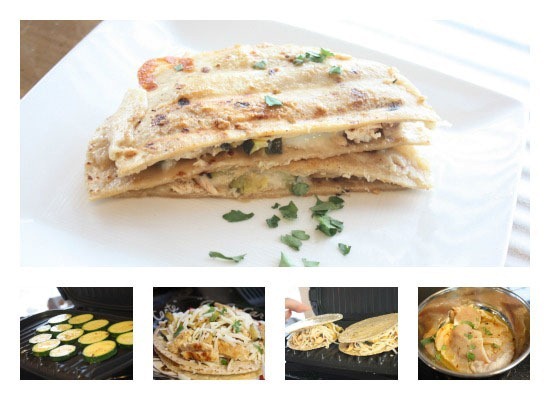 Today have I got a mouth watering recipe for you! I've been testing out homemade recipes for awhile now, in search of the best one to submit to the The George Foreman Grill: Show Us Your Grill Skill Recipe Contest. Finally I found it! It's perfect for summer and it tastes AMAZING – I really think you're going to love it!
Grilled Lime Chicken Zucchini Quesadillas

Prep time: 5 minutes
Marinade Time: 25 minutes
Cook time: 20 minutes
Total time (including marinade): 50 minutes

Serves: 4

Ingredients

1/2 medium zucchini
3 tablespoons olive oil
1 teaspoon salt
2 teaspoons cumin
2 tablespoons of chopped cilantro
2 small chicken breasts
1/2 teaspoon red pepper flakes
1 lime – juiced and zested
2 cups fresh mozzarella cheese
8 8-inch whole grain wheat or corn tortillas 

Instructions

Mix together 2 tablespoons olive oil, 2 teaspoons cumin, 1/2 teaspoon red pepper flakes, 1 lime zest/juice, and 1 tablespoon of chopped cilantro.
Cut zucchini into 1/4" slices and place in a medium sized bowl. Cut chicken breasts in half and place in medium sized bowl. Pour 1/2 the mixture over zucchini and 1/2 over chicken, mix well and cover each, let soak for at least 25 minutes.
Mix together remaining olive oil and salt in a small bowl. Brush on one side of each tortilla (this will be the outside side that touches the plates).
Heat George Foreman grill. Once marinated, place zucchini slices on grill and let cook until browned, 6-8 minutes. Remove from heat. Next, place chicken on the George Foreman for 8-10 minutes or until fully cooked.
Cut zucchini and chicken in to small strips. (**Note: I brushed the juices that drained from the George Foreman – on to the cut pieces to more flavor and less waste!)
Layer zucchini and chicken on the dry tortilla side and sprinkle mozzarella on top.
Place the oiled side face down on to grill and top with another tortilla (oil side up). Cook until tortilla soft (or crispy if you like) and cheese is melted (about 5 minutes). (**Note: You can fit two 8" quesadillas on the George Foreman at the same time.)
Cut in half and serve with a sprinkle of lime juice and cilantro.
This recipe is great for lunch or dinner! It is a touch of tang and spice, and overall tasty!  It was easy to prepare using just a few ingredients and my new George Foreman Removable-Plate Grill! The George Foreman grill cooked up the chicken, zucchini and tortilla to perfection!
Here is a little more details about the grill I used:
The George Foreman Next Grilleration™ allows for cooking of 5-servings at a time and under 20 minutes! Great for the whole family!

Large sloped plates lets you cook up to five servings at once
2 dishwasher-safe removable grill plates that are easy to clean
George Tough™ Triple non-stick coating is durable & eliminates need for oil or butter
Exclusive fat removing design removes up to 42% of the fat from 1/4 lb. 80/20 Ground Chuck
Floating hinge gives you the ability to adjust height to accommodate a wide range of foods
3-Year limited warranty
$59.99
Disclosure:  I did receive a sample product from the sponsor on behalf of Family Review Network for the purpose of this honest review. I am entering this recipe in the "The George Foreman Grill: Show Us Your Grill Skill Recipe Contest". All opinions are 100% my own. For full disclosure click here.