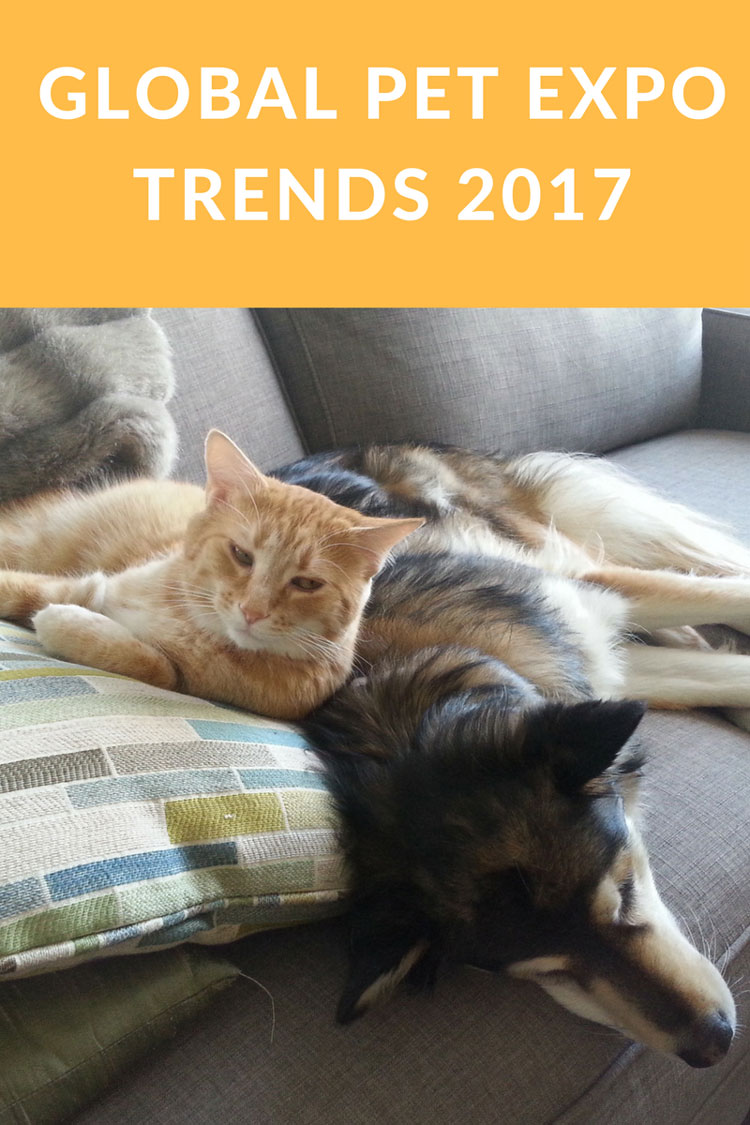 Global Pet Expo is a premier pet industry event. In fact, it's the largest annual trade show in the pet industry! You might be interested in this event if you are a pet owner, maker of pet products or distributor of pet products. This year the Global Pet Expo trade show in Florida had 1,130 exhibitors and 3,437 booths! That is a big trade show!
Global Pet Expo Trends 2017
The Global Pet Expo saw a few trends this year. The pet toy and food market is headed in some exciting directions! There was a lot of focus on pet health, physical exercise and mental exercise. Here are the top highlights from the Global Pet Expo:
Limited Ingredient Diets
With pet food sensitivities on the rise for both dogs and cats, pet owners are looking for limited ingredient diets which can greatly reduce the chance of food sensitivity. GO! by Petcurean, is a complete, nutrient-packed food with zero added growth hormones, by-products, or artificial preservatives, offering a single source of meat protein with as few ingredients as possible to meet the nutritional requirements of dogs and cats. GO! is available in 3 solutions-based categories for dogs and cats with issues: Grain Free recipes, Limited Ingredient Diet recipes, and Preventative Care recipes.
Pet Tech
If you aren't familiar with the term "pet tech," expect that to change. This year at Global Pet Expo there were a growing number of pet products that integrate technology in a variety of ways including activity trackers and video monitors and interactive toys. From the Flitter cat toy, which has an automatic teaser toy with two plastic dragonflies that fly around and around, enticing cats to catch them, to iFetch, an automatic ball launcher that provides endless fun for your pooch – interactive toys are a great option for pet owners on the go or with extra active pets.
Transparency & Clean Labels
As people increasingly expect sustainability, transparency and organic ingredients in their food, more consumers seek to feed their pets with the same standards of quality and excellence that they choose for themselves. Expect to see an increase in products with fewer ingredients, less preservatives, and certifications in the years to come. Petcurean's GATHER pet food line is crafted from certified, organic, non-GMO and sustainably produced ingredients. Each recipe is free from rendered or genetically engineered ingredients and features a single source, fresh and dehydrated primary protein.
Pet Cooling Products
Now your pet can beat the heat! There were several pet cooling mats, apparel, and bedding products showcased this year, all designed to keep your pet cool during the hot summer months. Scruffs Cool Dog Mat is filled with a non-toxic gel that keeps the self-cooling mat typically 5-10 degrees cooler than room temperature. Gen7Pets Cool-Air Cot pet bed combines portable convenience, outdoor durability, and pet-friendly comfort perfect for camping or the backyard!
This post is sponsored by Petcurean.