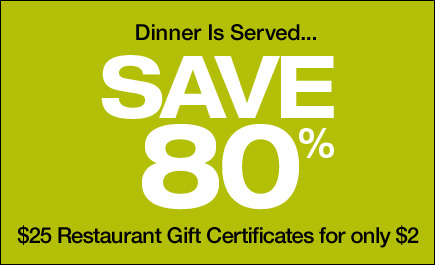 Wow! Looks like Restaurants.com is doing it again!! Here is the deal:
$50 GC  = $4
$25 GC  = $2
$10 GC  = $0.80
If you are like me, you've done this in the past and loved it. How else can you get $200 of gift certificates for only $16? Plus it allows you to branch out and try new restaurants you'd normally never try! There are a few limitations, but I think that they are still worth it!
Here's how:
Go to Restaurants.com and find restaurants in your area
Browse the restaurants, making sure to read the box for details
Add restaurants to cart and use the discount code FUN (this will automatically give you the discount)
Look at the TOTAL and make sure savings is correct…
Check out!
Tips!
Beware of some that expire (I go for the non-expiring ones – there are plenty!)
Beware some ask for a minimum purchase (example: on the $25 GC you have to have a minimum purchase of $35)
Beware some have limitations on days of the week, holidays, other promotions… etc.
Discount code expires 7/12/2010 – Discount code "FUN" .. and start saving on your eating-outs!