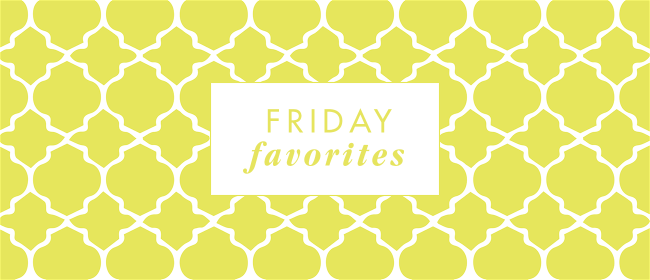 Happy Friday! This week felt like it took forever! It was just me and the dog for the first half of the week, until my husband came back from his trip. I anxiously picked him up from the airport – he'd been gone what felt like forever (10 days)! I am always so relieved when he comes home safely from a long time away – thanks, Anxiety! Anyway, I am so glad it is Friday – now on to the weekend… filled with taxes and chores!
Here are my favorite things from this week, enjoy!
April Daily Goodie Box
I'd say 100% of everyone enjoys free stuff. Well, I am a big fan of free – and scam free – just like the free Daily Goodie Boxes that are mailed to your door without any hassle or obligations. They are chock-full of fun new products that change every month. This month the Goodies include: Prince & Spring – Fruitmojis, RawRev – Chunky Peanut Butter Chocolate, Goodwipes – Down There Wipes For Gals, Fourth & Heart – Madagascar Vanilla Bean Ghee Butter, Foods Alive – Himalayan Pink Salt, Good Karma – Dairy Free Flaxmilk, Real Chemistry – Fresh-Start Foaming Cleanser, DayClear – Allergy Relief, Flathau's Fine Foods – Cinnamon Snap and Loaf Slime – Lavender Aromatherapy Dough .
Copper Clothing – forever fresh deowear technology
I am always willing to try something holistic – like these copper clothing items made with the healing power and properties of copper. Copper has been a popular health and wellness alternative and is a great alternative to preventative care! When traveling, I highly recommend compression socks, and there socks are not only compression – but also have copper! It's a bonus! They are highly durable, anti-fungal, anti-odor and provide lasting antimicrobial protection. Check out this infographic Why Copper Compression Socks Are Great For Your Health?
In addition to copper socks, this company also makes a range of copper-infused products including copper pet beds, copper gloves, copper sheets, eye masks, insoles, copper pajamas and copper infused undergarments! You can learn more about them here.
PB Fit
Peanut butter disappears quickly in my house. We eat it almost everyday. It is such a great high-protein food. I put it on rice cakes, in my smoothies and put it on fruit! I've been seeing a lot of peanut butter powder options lately on the store shelves, and recently just tried them myself. I wasn't expecting it to be the consistency or taste of peanut butter – but I found I was wrong. It is rich, smooth and delicious!
All you do is combine the powdered peanut butter with water and stir until it is smooth. It is kind of mind boggling! However, my very favorite way to use the peanut butter in powder form is in my morning smoothies. It blends so well and doesn't make a big mess like the jar of peanut butter. I use PBfit, cocoa, and nut milk to make a delicious chocolaty-peanut butter smoothie! Check out all the PBfit products.
The Easy 5-Ingredient Healthy Cookbook by Toby Amidor
Complicated meals don't work well with our lifestyle. We both work full time jobs and live full time lives. When I saw the title of this book, I knew it was the cookbook for me. I strive to eat as healthy as possible, but it is not always easy when your time is limited. This cookbook has a lot of great recipes that don't require multiple stops at the grocery store. I love that the meals are simple and most don't take longer than 30 minutes – or plop everything into a slow cooker for the day.
Recipes that I am looking forward to trying next from this book: Slow Cooker Turkey Breast with Onion, No-Cook PIstachio-Cranberry Quinoa Bites, and Grape-Melon Smoothies! This is a great cookbook, you can find The Easy 5-Ingredient Healthy Cookbook on Amazon for $11.69!
LIVfit Superfood Blend
Smoothies make up the majority of my morning breakfasts. Lately, I've been adding two scoops of LIVfit Superfood Organic Superfood Blend to my morning smoothie – to boost the nutritional value and vegetables. The ingredients are full of healthy options for daily nutrition.
Hemp protein, quinoa powder, vegetable blend (carrot, beet, spinach, tomato, broccoli, shiitake mushroom,) and green tea are just a few of the ingredients that I wouldn't normally add to my smoothies – but are very healthy and delicious add-ins I get from just a couple scoops of LIVfit Superfood in my daily smoothie. It is a great product to increase my vegetable intake, vitamins and minerals!
Crystal Invisible Solid Deodorant
Making the switch to natural deodorant is very important in my opinion. It isn't the easiest transfer, it does take some time for our body to get used to it, but it is worth it! I have been successfully using natural deodorant for a few years now, and will never go back to the chemical-filled stuff.
I love trying new brands of natural deodorant, because some work better than others. I tried the CRYSTAL mineral salt deodorant and they give great odor protection without all those nasty chemicals. The new invisible solid deodorant sticks are a easy way to switch into the natural deodorant world. They go on smooth, have 24 hour protection and are available in a variety of scents. Endorsed by numerous breast cancer and oncology treatment centers, you can find these at Walgreens, CVS, Albertsons and Amazon.
Woodstock Dot Journal – Peace, Love, Music
Have you heard of dot journaling? It's a planner, diary, to-do list all-in-one journal. I've never had a journal like this. The pages are filled with dots and you can write on them, draw a picture, make list or just be creative! The first few pages of the journal are a bit of a guide for how to make the most of dot journaling – helpful for me to get used to this new concept! It is a great size to fit in your purse and go with you anywhere – it is ready for your daily notes and dreams! Get this dot journal on Amazon!
Farm to Feet Socks
These 100% American hiking socks are officially now available at select REI stores around the country including Denver and Boulder. Woohoo! I went to the Colorado REI to check them out for quality, comfort and price and was very impressed! These socks are so supportive! We frequently hike the Colorado rocky mountains and after a few times not wearing hiking socks – I learned my lesson quick.
The Farm to Feet hiking socks are everything I look for in a hiking sock – they are merino wool which is soft and itch free. They are incredibly comfortable and have great cushion for full days of hiking. Between the flat seamless toe, ventilation channels and the impact zone reinforcement – these socks have got it all! Check out the really fun and unique designs on Farm to Feet.
Disclosure: I received free products in exchange for review.