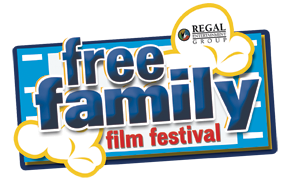 Earlier I announced AMC kids movie $1 Tuesdays… well it looks as though they aren't the only one to be hosting a movie day especially for family/kids.
Regal Cinemas is also hosting selected G or PG movies. They start at 10:00am every Tuesday and Wednesday during the festival. Tickets and seating are first-come, first-served – so no morning slacking!
The Free Family Film Festival is a great way for you and the kids to spend a weekday morning in the summer. Tickets are available at select theatres' box office on the day of the show. Just go to the site, enter your state and it will magically pull up loads of theaters that are participating. Have fun!