Check out this score – yet another FREE Organize in Style coupon booklet! These coupon booklets are filled with over $35 in high value P&G coupons! You'll get coupons for Cascade, Dawn, Febreze and various other P&G brand products. * Allow 4-6 weeks for delivery.

Go here to score a FREE sample of Simply Right Baby Care Formula courtesy of Sam's Club!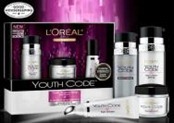 Hurry on over here to request a free sample of L'Oreal Paris Youth Code, courtesy of Walmart.com!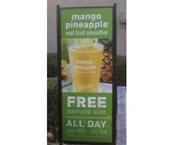 Have you seen this freebie from McDonald's? I've seen signs for FREE 5 oz. samples of McCafé's new Caramel Frappé or Mango Pineapple Smoothies? They are available every Friday from 11 a.m. to 1 p.m. – all summer long. But then the fine print: At this location. For a limited time. One per customer, per visit. Basically, you might want to double-check to be sure your local McDonald's is participating in offer and passing out the cool drinks on Fridays!!

UPDATE:Pantene is apologizing for all the trouble with their coupon giveaway and wants to make it up to you. Just email them at [email protected] with Your Name, Your Address, Your Email and they will send you a coupon for free Pantene. Valid until 07/05/11. The coupon is valid for a free shampoo or conditioner up to $4.99, excluding trial size. Visit their wall for more details.

Stop by your local Sephora inside a JC Penneys store to see their summer hair essentials, and get a free sample of Ojon Restorative Hair Treatment! This offer is available while supplies last! Hurry in!
Free Redplum Coupons online! Print 'em out!
Amdro – SAVE $2.00
L'Oréal® – SAVE $2
L'Oréal® – SAVE $1
Luigi's® – Save $0.50
Natural Choice® – $3 OFF
Body Fortress® – SAVE $3.00
More Free Coupons! These free coupon printouts are from CouponNetwork Coupons!
*My favorites are highlighted below! Enjoy!
Save $1.00 when you buy any Pledge® product
Save 75¢ when you buy four or more Dole® Mandarin Oranges
Save up to $3.00 when you buy Barbara's® Puffins® Cereal
Save $2.00 when you buy twenty or more Yoplait® Yogurt Cups
Save $10.00 when you buy $100 in Visa® Gift Cards
Save $1.25 when you buy twelve or more Yoplait® Yogurt Cups
Save up to $2.00 when you buy Yoplait® Yogurt Cups
Save $1.50 when you buy any two OFF!® Area Products
Save $1.00 on GOOD SEASONS Salad Dressing & Recipe Mix
Save up to $3.00 on THREE SCOTT® 1000 12-Pack Bath Tissue
Save $1.50 on 4oz Glade® Candle or 4ct Glade® Candle Refill
Save $2.00 on any TWO FRESCHETTA® Pizzas 12oz or larger
50¢ off when you buy EIGHT CUPS any variety Yoplait® Yogurt
Save up to $3.00 when you buy three or more Fiber One® bars
Save up to $3.00 when you buy Nature Valley® Granola Snacks
Save up to $2.00 on Hamburger Helper® Skillet Meals
Save $5.00 when you buy $50 in Visa® Gift Cards
Save $2.50 when you buy any two Budweiser® Sauces
Save $2.50 on Dr. Pepper™, Crush™ or A&W™ Dessert Toppers
50¢ off when you buy any TWO Gold 'n Soft® 15oz Tubs
$1 off when you buy any TWO Kellogg's® All-Bran® Cereal
$10 off when you buy Philips Bikini Perfect bikini trimmer
Save up to $4.00 when you buy OSCAR MAYER Lunchmeats
Save up to $4.00 when you buy four or more DEPEND® products
50¢ off when you buy any Dole® Coleslaw Kit
$5.00 off when you buy any one Flexamin® Product
$2.00 off Veet® Hair Removal products
$5.00 off any Philips Norelco Shaving Replacement Head
$3 off 1 Multi-pack AVENT BPA-Free Baby Bottles
$1 off when you buy any two bags of SENSEO® COFFEE PODS
$2 off when you buy any Osteo Bi-Flex® Supplement or Powder