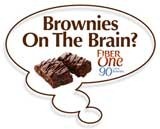 Often times I get a sweet tooth craving. Sometimes after a big meal, or sometimes just in-between them! I don't like to ignore my cravings, but I also know I shouldn't eat a candy bar every time I have them! If I am looking for a quick and delicious treat that isn't going to make me over-indulge… I look for something that is a smaller portion to help me stay on track.
Something like the perfectly portioned New Chocolate Chip Cookie flavor Fiber One 90 Calorie Brownies. These smaller desserts have gotten my taste buds approval. They are a yummy combination of chocolate chip cookie AND brownie! They are soft, moist and chewy, yet only a 90-calorie snack!
FAST FACTS
Each serving provides 20 percent of the Daily Value of fiber (5g)*
Delicious Chocolate Chip Cookie flavor features semisweet chocolate chips in a cookie-batter brownie topped with a dark chocolaty flavored drizzle
3g of total fat per brownie.
The new Fiber One 90 Calorie Brownies – Chocolate Chip Cookie flavor are perfect on-the-go and for snacking in between busy schedules! They go great in work or school lunches, or just pack them in your purse like me! That way you always have a sweet, satisfying and simple treat always at your disposal!
JOIN IN 
WANNA WIN?
One lucky winner gets the chance to win a gift pack with a ton of FIber One goodies. The prize package contains: 1 box of Fiber One 90 Calorie Brownies, Chocolate Chip Cookie flavor and a fun survival kit including: Brain Stress Ball, Water Bottle, Ear Tube Buds, Office Turf,  and a Mini tote bag to put everything in!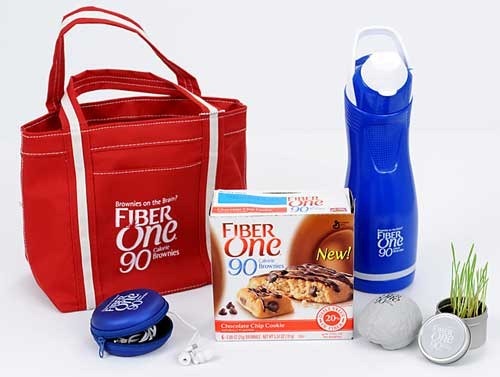 :: Giveaway ::
** Please leave your entries using the above Rafflecopter form. It might take a bit to load. **
Disclosure: The product, gift pack, information, and additional sample have been provided by General Mills through MyBlogSpark for the purpose of this honest review. This did not affect the outcome of this review. All opinions are 100% my own. For full disclosure click here.