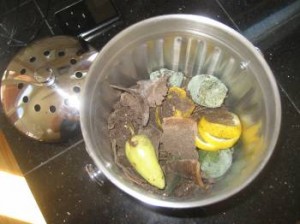 Did you know you can compost:
Pet and human hair?
Finger nails?
Coffee grinds and coffee filters?
Wine corks
Lint from the dryer?
All that along with fruits and vegetables, egg shells, grass clippings and so much more.
"But what about that beastly smell?"
I love to Compost, but I absolutely hate the smells! Composting can be a very stinky process. There is no denying that moldy, rotting food will stink up a kitchen! It is necessary to find the right compost pail in order to reduce the smell.
Previously I had been using a large tupperware to put all of my kitchen scraps in.  Every time I opened it, an unpleasant smell lingered in the air for hours. I had to take it out daily to reduce the smells. The bucket was deep and hard to clean. The worst part, it was completely see-through. Anyone who stepped into my kitchen could see all of the rotting kitchen scraps I'd placed in my bucket! I was fed up with the embarrassment of the bucket, the stench and the inconvenience. I was desperate to find a good replacement!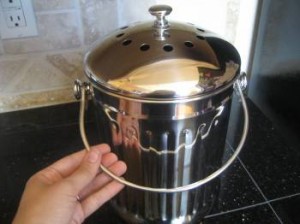 I did some research on quality compost pails, and was thoroughly impressed with a stainless steel compost pail that I found on CleanAirGardening. Once it arrived, I happily said goodbye to my stinky compost bucket.  I have been using the pail everyday and I couldn't be happier! It looks great on the counter, shiny and sleek!! I am no longer embarrassed to have it sitting out! It holds a generous amount of kitchen scraps, so I don't have to dump it everyday. The food can sit for a few days and this pail still keeps the stink down, way, way down… This is because the pail has carbon filters inside the cap that block the smell from leaking out! It's neat and the filters last for several months before needing to be replaced.  Most importantly, the pail is easy to clean! All you do is wipe it down with soap and water. I wash it out after each dump to keep any smells from forming.
What an upgrade! If I could give this pail a Hi-five I would, for it's job well done. Instead I will give the pail FIVE stars because it is attractive, there is no more stink and is incredibly easy to clean.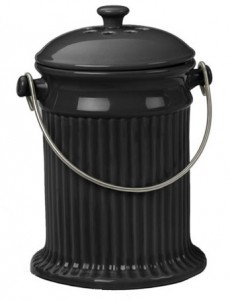 CleanAirGardening is a useful resource for all gardening and compost needs. If the stainless steel pail isn't your style, they have others to chose from, like my second favorite, the ceramic crock.
Disclosure: No compensation was given for this review. I did receive a sample product from the sponsor for the purpose of this honest review. This did not affect the outcome of this review. All opinions are 100% my own. For full disclosure click here.