This post was created in partnership with Sprouts and Made In Nature.
I have a snacking problem.
If I was a single gal, I would never eat meals, my diet would consist of small snacks most of the day. Snack-loving can be dangerous though. Like when my co-workers bring in chips, or cookies… or bundt cakes! #snacklife4ever
While I do have a snacking addiction, I have learned over my snacking journey to keep healthy snacks nearby. I feel like I am an expert on healthy snack brands. I can spot them in the stores and are familiar with there ingredients and goodness. I no longer need to spend hours searching labels. I have my go-to snacks and they keep me in control. Like Made in Nature.

If you are looking for a delicious and healthy snack, look no further than Made in Nature.
Made in Nature is a pioneer in organic snacking. They have no artificial ingredients and have a huge selection of satisfying snacks. They are real. They are organic. They are delicious.
The Made in Nature products are plenty! They range from fruit and nut mixes, to dried fruit, to figgy pops and beyond. They are so versatile for a variety of needs. You can snack with them (obviously) but they are great for adding to meals too.
Recipe Alert: Make the delicious Figs and Goat Cheese Fusion Salad with Made in Nature Organic Dried Figs and Made in Nature Organic Dried Cherries, Cranberries, Blueberries and Raisins.
For great recipes follow them on Facebook, Twitter, Instagram, and Pinterest.
My Top 3 Ways to Snack with Made in Nature: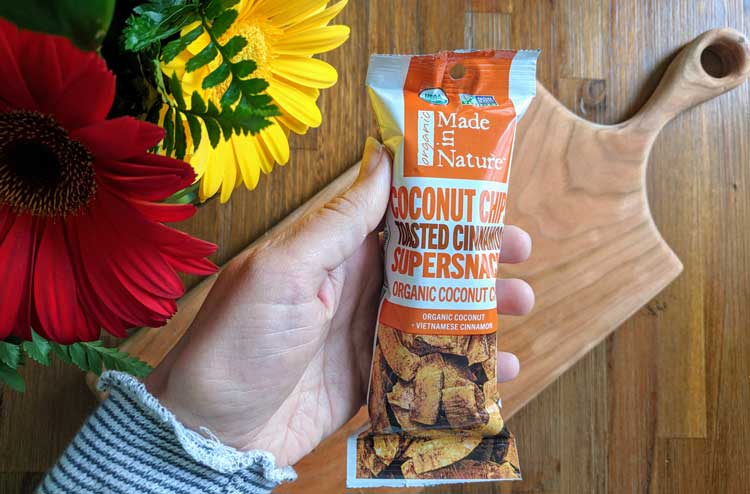 Straight Outta the Bag
I can finish a bag of dried mangos without even thinking about it. They are picked are the peak of perfection, lovingly dried without preservatives, coloring or chemical – and so darn good. The coconut chips are another one of my favorites.
I prefer to enjoy Made in Nature straight outta the bag in the snack pack form (mainly cause I will get carried away if I have the full size in front of me.) These snack bags are perfectly portioned and great for on-the-go!

Trail Mix Style
A little bit of this and a little bit of that… Made in Nature has the best ingredients for homemade trail mix! Add your favorite flavor of coconut chips (Made in Nature has so many good flavors to choose from, like, Toasted Cinnamon or Ginger Masala Chai) + your favorite flavor of nut fusions + dried fruit + whatever else your heart desires… I like to do some mixes with organic chocolate chips and then some without!

Figgy Pops
Perfectly sized snack balls that you can just pop in your mouth! They are mess free, hassle free and free of all the bad things like artificial ingredients and GMOs! Figgy pops come in five delicious flavors – and I've tried 4/5 so far! Find these organic snacks in full size bags or convenient single serving packets. If you want a filling snack – these are your new best friend – they are energy balls that will satisfy.
No matter how you snack, snack healthy with Made in Nature!
Truly the options are endless for Made in Nature snacking.