Disclosure: I was given a Bonefish Grill giftcard to enjoy the Fall Menu items.
The husband and I went to Bonefish Grill again for date night! It never gets old. We love their ambiance, mocktails and dinner menu! Bonefish has the best fresh seafood and is regularly changing their menu for the season.
This latest visit we got to try the new seasonal specials – and were excited to see that there were plenty of options! The fall menu celebrates the season with crave-worthy dishes, perfectly paired cocktails and favorites like the Fresh Swordfish + Pumpkin Ravioli.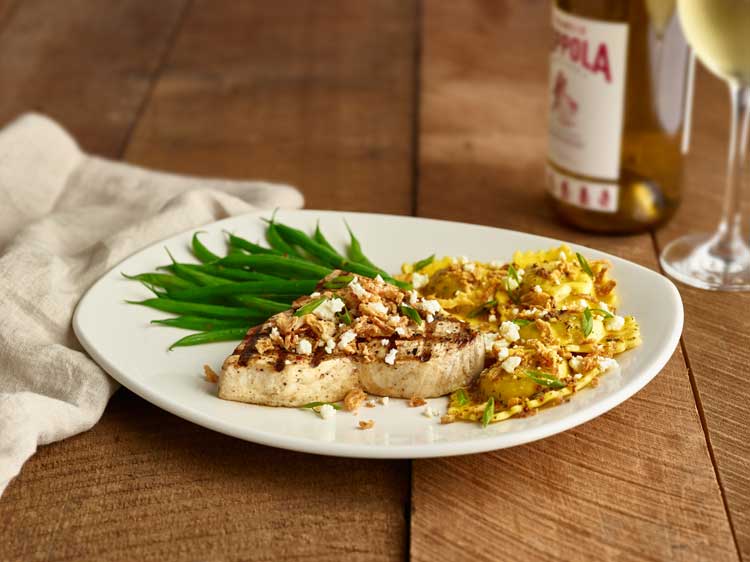 Have you ever had swordfish? I was so intrigued when I saw this on the menu! The Fresh Swordfish + Pumpkin Ravioli is mouthwatering no doubt. It is topped with crumbled feta, crispy onions and a hint of butter. The fresh, wild Swordfish is hand-cut in-house at the peak of its season, then wood-grilled to perfection.
Bonefish Grill knows how to please their guests. This menu item is a guest favorite, and I can see why!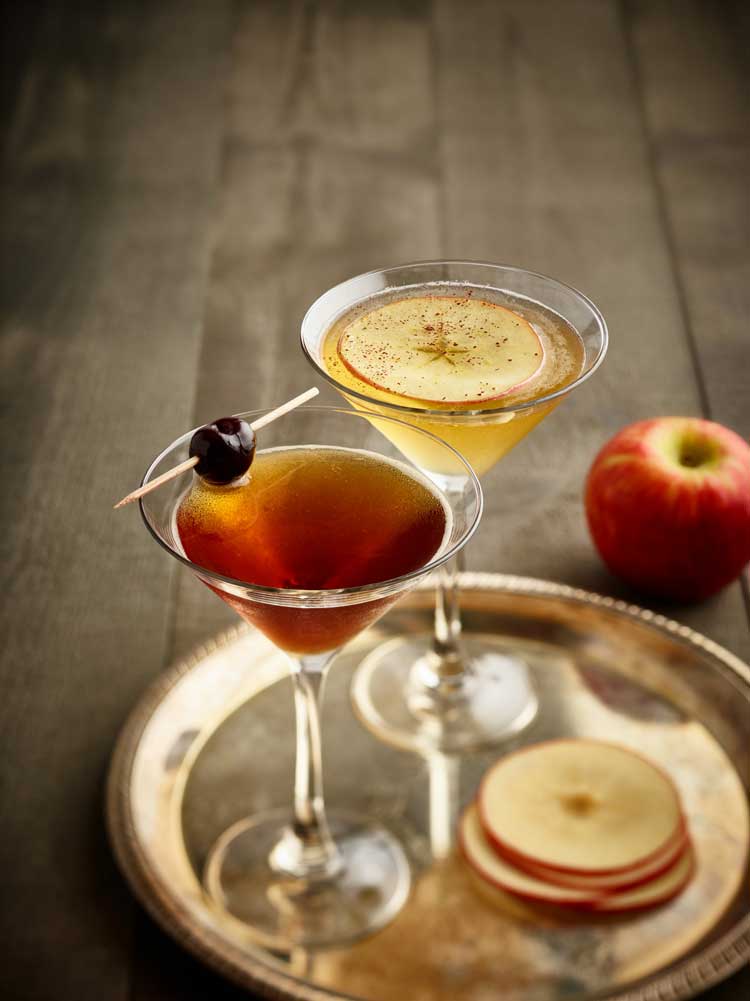 First of all, we love the drinks at Bonefish. We aren't big drinkers and usually get their declious mocktails. However, there is a seasonal cocktail that sounds incredible. It is a Honeycrispt Apple Martini. My favorite apple – and this drink is made with it's juices and vodka. That'll warm you up in the chilly weather!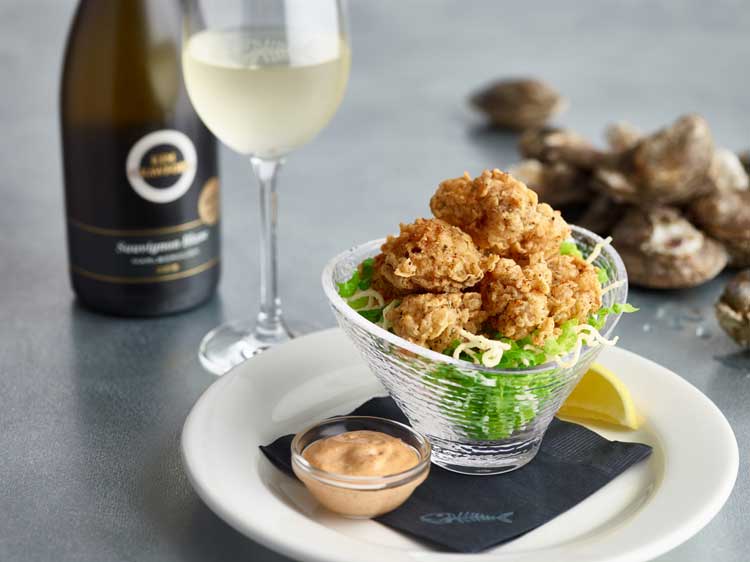 As for new and exciting appetizer, you'll find the crispy oysters on the menu – yes crispy oysters! These oyster are tempura-style oysters, served on a bed of crispy noodles with a smoky chili dynamite sauce.
Some always delicious options for dinner are the Wild Snapper & Shrimp and the Mahi Mahi Oscar (my husband gets this whenever he sees it on the menu). The Wild Snapper is wood-grilled with a soft blackening spice and includes three jumbo seasoned shrimp and finished with a warm chorizo "mojo" sauce, served with jasmine rice & French green beans. The Mahi Mahi Oscar is also wood-grilled and topped with jumbo lump crab, freshly steamed asparagus and lemon butter.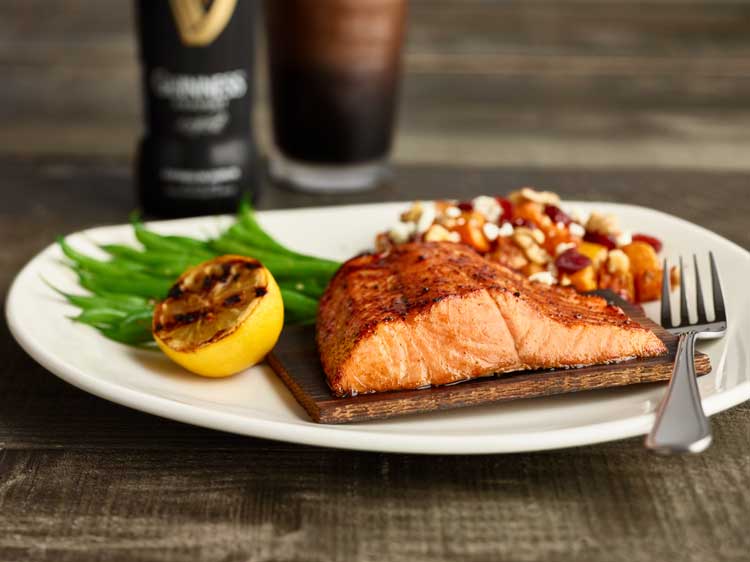 Additionally, Bonefish Grill added a couple new seasonal items this year – the new Cedar Plank Steelhead and the Dynamite-Style Shrimp. Both sound like good options, right? The Cedar Plank Steelhead is milder than Salmon, but full of flavor, and roasted on a cedar plank with a Guinness glaze — served with a fall vegetable medley with toasted walnuts and choice of a fresh side. The Dynamite-Style Shrimp is wood-grilled and topped with dynamite aioli and feta cheese crumbles, served on a bed of Florentine-style risotto.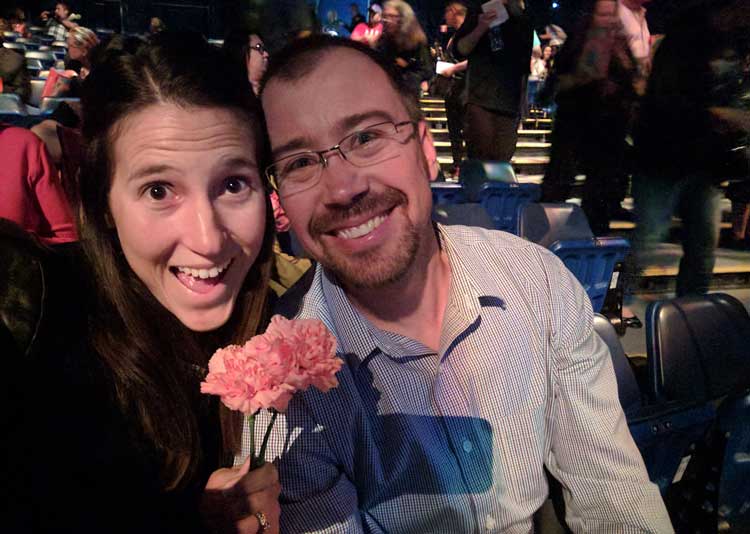 Lastly, date night would not be complete without dessert! I couldn't help myself when I saw the seasonal dessert on the menu – Pumpkin Crème Brulee, are you kidding me? I am a pumpkin queen in the fall and creme brulee is one of my favorite desserts, so naturally we had to try it. This crisp and creamy dessert had hints of cinnamon and nutmeg, and was topped with house-made whipped cream. YUM!
Bonefish Grill is always a favorite of ours for date night, how about you?