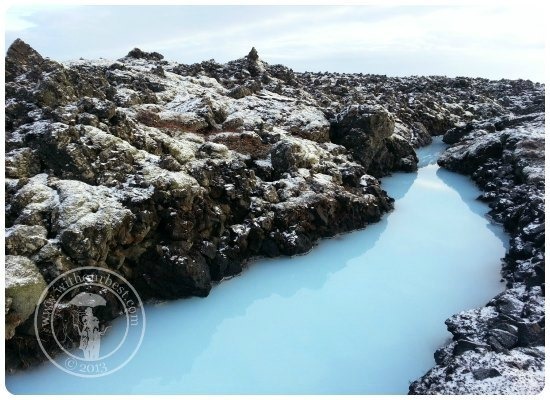 One of the mighty fine perks of my job is that I get to travel inexpensively all over the world. And boy do we try to take advantage of this as much as we can!  Our most recent destination being Iceland. The country was incredible, the people were friendly and I have only great things to say about our entire Iceland adventure.
One thing that is a MUST SEE is the Blue Lagoon!
Our trip began with the all-nighter flight from Denver to Keflavik (DEN-KEF) which got us in at 6:30am. We got our bags, the rental car and took some pictures outside of the airport… that killed about 1 hour. Since the Blue Lagoon is near the airport we decided to head there first. It being the off season (March) it didn't open until 10am, but we had no other plans so we drove straight there.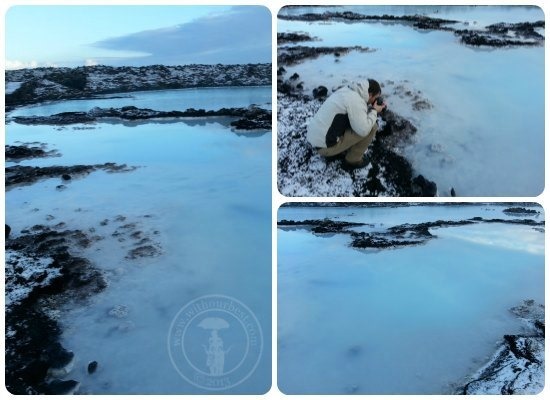 I am so glad we did.
I HIGHLY recommend getting there before it opens! We were able to walk around the main building, which is open to the public. (From the parking lot,  just take the walkway on the left. It is a nice pathway around the lagoon.) By going so early, we got some amazing uninterrupted photos of the blue lagoon – we were the only ones there!
The color contrast of the murky blue and the deep black rocks were mesmerizing. Being there in the winter seemed like the ideal time to go for capturing these incredible photos.
Once the Blue Lagoon opened, we stood in line to buy our tickets which were about $50/pp. Expensive, but worth it. One way we did save, was that we brought our own towels so we didn't have to pay for the rental ones. But don't worry, if you are packing light you can rent towels and/or robes.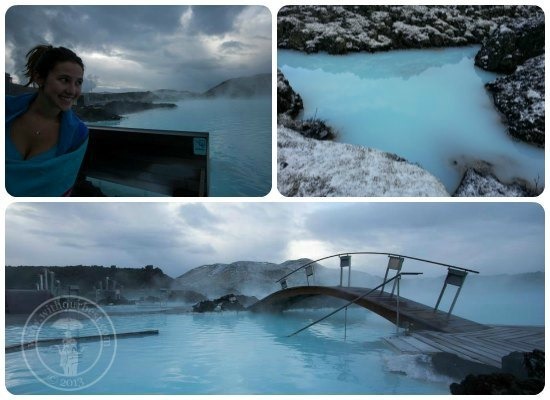 Once you change into your bathing suit and get outside, the blue lagoon is right in front of you – and you will be astonished. There is a small black sand beach area (much too cold for us in March), a sauna and a waterfall all inside a giant blue geo-thermal pool. Around the perimeter you will find wooden boxes which hold the mud masks that are free to put on (don't miss these – they are a fun part of the experience)! Apparently the minerals (silica and sulphur) have anti-aging properties and do wonders to your skin. My husband couldn't stop stroking his face after using it, "It's like baby soft!"
We swam around the blue lagoon, visited the sauna and rubbed minerals all over. We were 100% tourists and enjoyed every minute of it. One thing we regret is not getting a photo of us while we were swimming in the lagoon…
Our mistake, and here is my advice – there is a employee that takes pictures on an iPad sitting on the side of the lagoon. Keep your eye out for him! We avoided him thinking it would cost money, later to find out it is complimentary! They simply send you the photo by email!
My Tips for the Blue Lagoon:

Get there early for some prime photo opportunities
Bring your own towels to save $$$
Find the iPad employee while you are in the water
The Blue Lagoon exceeded our expectations and we were so happy to have gone. Do note, we are pretty frugal travellers, this was pricy, but we highly recommend it!
Note: If you have a layover going to/from Europe you can see the Blue Lagoon easily if you have a few hours. (You can plan your airline ticket this way if you want.) There are tour buses that take people to/from the Keflavik airport. A lot of people see nothing else in Iceland but this on their quick stop over!