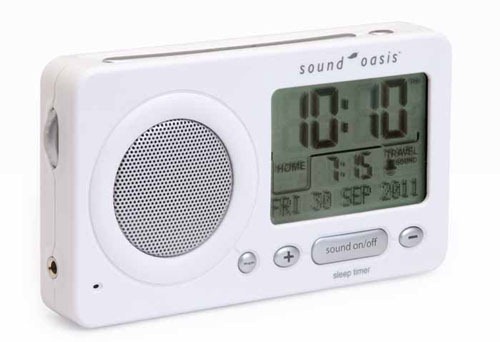 It's one thing to not be a good sleeper normally. But it is a whole different thing to wake up to an adult boxer dog barking non stop from 5-6 am for the past several days. Yes, that friendly noise has been my alarm clock each morning recently. I should also mention these days were my days OFF work…
But then, imagine my joy when I realized how well a Sound Oasis sleep therapy sound machine can drown out outside noise. I could not have been more excited about the sounds of rain forest, ocean or white noise. I breathed a sigh of relief…
The sleep sound machine that began calming my mornings? The Sound Oasis Travel machine. It is a handy little guy for traveling, but can also be used everyday at your bedside. The sound machine is a sleep sound system, but also a clock with an alarm! The machine features a selection of soothing sounds for just about every sensitive ear. 
What are the sounds?
There are 18 authentic sounds total including: Ocean Surf, North Woods, Thunderstorm, White Noise, Night Train, Spring Rain, Island Surf, Bonfire, Stream, Hidden Cove, Wind, Asian Garden, Song Birds, Harbor Swell, Bamboo Chimes, Summer Night, Cooling Fan, and Rain Forest. In addition there is a voice memo recorder, where you can record your own voice memo – or have a favorite song or your child record one for you!
What comes with the Sound Oasis Machine? 
The machine unit with headphone set jack, AC adapter cord to plug into the wall, 4 AA back up batteries, and worldwide plugin connectors. I have to tell you, the headset jack comes in very handy when there are other people in the room (spouse, shared living space, hostel). With this feature you won't disturb others, just plug in your headphones and only you will hear your alarm or the soothing nature sounds.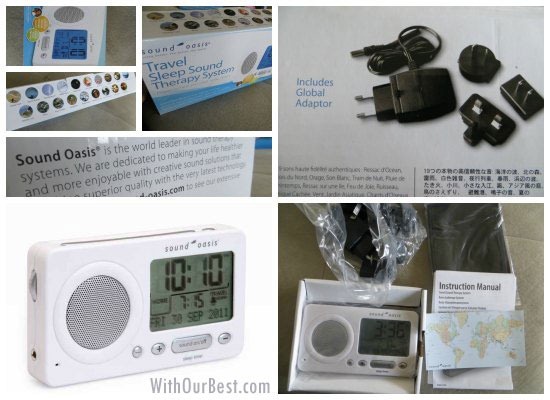 Features, features, features…
This travel sound machine has many additional features. First and foremost, the size is a great benefit. Its compact size allows you to fit this gadget in the palm of your hand – so virtually anywhere – your purse, bag or even your coat pocket! It can easily be used as an everyday sleep sound system, and because it is so small, it's great for travel too!
It is easy to drift off to sleep with its soothing nature sound or a constant white noise. You can listen to a continuous sound all night or let the machine gradually turn the sound off with 30, 60 and 90 minute interval settings. The noise lightly fades away in the last 15 minutes. Since it is not abrupt, it lets you have a peaceful sleep.
A Great Holiday Gift Idea!
Overall this is a great gift idea for the upcoming holidays. This machine masks other sounds around you, is compact and I love the memo feature along with the unique sounds. It is perfect for the traveler or for a family member who has trouble sleeping. You could get it for someone with a snoring spouse… or heck maybe as a gift the the snorer!
Disclosure: No compensation was given for this review. I did receive a sample product from the sponsor for the purpose of this honest review. This did not affect the outcome of this review. All opinions are 100% my own. For full disclosure click here.