Holy heck yum! Our family absolutely loves the new Oatmeal and Fruit cups by Seneca! These handy cups are made with real fruit and require no water or milk! It is a simple way to eat oatmeal – just heat in the microwave and eat!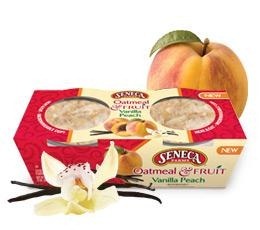 I am beyond thrilled my husband loves this so much! He rarely has anything more than a cup of coffee for breakfast, but lately he's been having these daily!! He loves both the Apple Cinnamon and the Vanilla Peach flavors! His favorite part of these cups: "the real fruit chunks found at the bottom!" Hooray, we found something he'll eat in his morning rush!!
Seneca Farms Oatmeal & Fruit – is the perfect choice for anyone who has trouble finding time for breakfast in the morning. These cups take less time than it does to make a cup of coffee, heat the six-ounce microwaveable cup – in the microwave for 45 seconds.
Seneca's Oatmeal & Fruit has no trans fats or cholesterol, and is a great source of Vitamin C.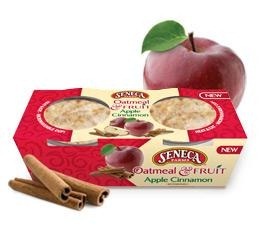 We tested the two initial flavors– Apple Cinnamon and Vanilla Peach.   And we are excited that more flavors and retailers will be added in the coming months. (I heard Cranberry Apple is another option soon! YUM!)
Seneca Farms Oatmeal & Fruit is not only a quick and healthy breakfast option, but it is a satisfying mid-afternoon snack and it even works as part of a healthy weight loss plan for those looking to lose or maintain weight loss.
Did you know that*…
Nearly 60% of U.S. parents of children ages 3-17 admit that their child skips breakfast, with more than half of U.S. Moms wishing their child ate a more nutritious breakfast.
58% of U.S. Moms say they skip breakfast regularly. 46% of Moms who skip breakfast say they do so because they do not have enough time to prepare or eat it.
57% of single adults say the number one reason they skip breakfast is that they don't have enough time to prepare it.
While 71% of U.S. adults agree that breakfast is the most important meal of the day, 67% of those admit to skipping breakfast.

*Results of 2011 Children's Nutrition Survey, conducted by Harris Interactive for Seneca Farms
Seneca Fruit has a lot of great healthy foods and they are sold all over the nation, including Wal-Mart stores. For the full list of locations, check out Seneca's store locations.
Do you want to try Seneca's Oatmeal and Fruit cup too?? Print your coupon on their Facebook  page! This coupon is limited to the first 5,000 downloads, so hurry! It expires August 31, 2011.
Disclosure: This post was written for Family Review Network & Seneca who provided the complimentary product for review in exchange for my honest review. This did not affect the outcome of this review. All opinions are 100% my own. For full disclosure click here.