My friend said it best, "I like vitamin gummies because when you are anxious for a sweet treat, you can just be like, Hey! I haven't had my vitamins today!"
She is totally right. There is something more tempting about gummy vitamins that the standard pill popping type. They are more of a treat. They are more inviting. They are my favorite way to take my vitamins.
Well, Vitacost.com offers an easy and cost-effective way to purchase gummy vitamins (and more) for kids and adults online at their healthy living store Vitacost.com.
Recently they debuted a brand new line of  gummies for both kids and adults! This line includes: Multi-Vitamin Gummies for Kids – 150 count and 60 count, Omega-3 Gummies for Kids, Multi-Vitamin Gummies for Adults, and Vitamin D3 for Adults.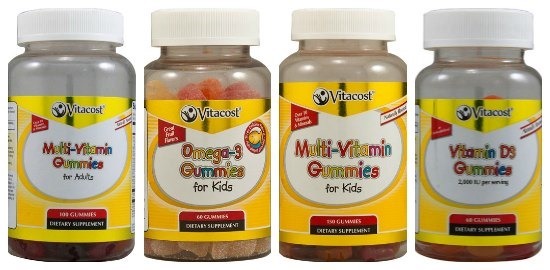 I got to try a selection of the kids and adult vitamin gummies to see how they stack up to gummy vitamins I tried in the past and typical standard pill vitamins.
First of all, they are in a variety of fun colors and shapes. You can tell the difference from each vitamin (multi, omega, etc.) by the different shapes. They are not sticky or tacky. They have delicious flavor and are not overly sweet, but do taste similar to candy gummies (gummy bears). Not only that, these have no artificial flavors! They are naturally flavored and colored with fruit and vegetable concentrates—not chemicals!
Taking my gummy vitamins alone fulfills my sweet tooth! Now everyone looks forward to taking their vitamins when they are in this form!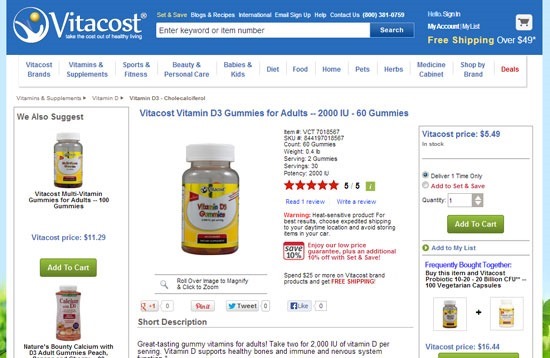 I've got to say, vitamin gummies are the easiest and most convenient way to serve vitamins to kids and unwilling adults! They are a special treat that taste good, you'd hardly know they were healthy! PS – I've even got my husband taking his daily vitamins thanks to the vitamin gummies from Vitacost.com!
Connect & Purchase:
Wanna Win?
One lucky winner will receive a $25 gift card to Vitacost.com to pick out items of their choice! To enter, fill out the form below!
:: Giveaway ::