Milk-Bone® dog products, information and VISA gift cards have been provided by the Milk-Bone® brand.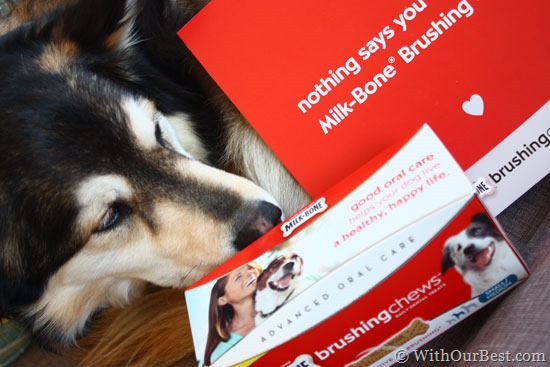 It is very important to me to keep my dog healthy. I have written about it many times. I frequently bathe her, keep her up-to-date on vaccinations and medications and work hard at giving her a well balanced diet (no gluten for her either!) One thing I am getting better about, is her oral hygiene.
My husband and I feel we scored the best dog ever when we adopted her from the Humane Society. She makes us so happy, she is so loving and is a big part of the family. When we first got her, she was easy to train, she was outgoing, and she NEVER had bad breath. Fast forward five years… the tartar on her  teeth is now showing, and her once fresh breath smells more like dog breath these days!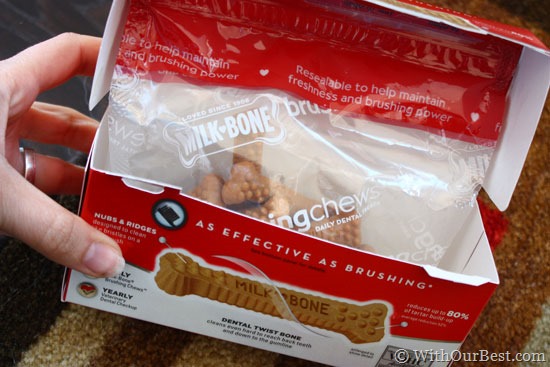 We talked to the vet, had a tooth removed (she broke it on a bone and it was full of plaque) and we bought doggy toothbrushes as soon as we noticed the stinky breath. And while we try to brush her teeth regularly, but I will admit, life is busy and we often forget. That is why having Milk-Bone® Brushing Chews™ on hand has been a blessing for my dog's oral hygiene!
Despite veterinarian recommendations for pet owners to practice regular brushing at home and schedule professional teeth cleanings for their pets, more than 80% of dogs develop periodontal disease by 3 years of age, according to the American Veterinary Dental Society.
Milk-Bone® Brushing Chews™ are a convenient way to make our dog happy (she loves them) and our solution to her daily teeth cleaning care. We have been using the Milk-Bone® Brushing Chews™ for a few weeks and have found them to be easy, effective and affordable.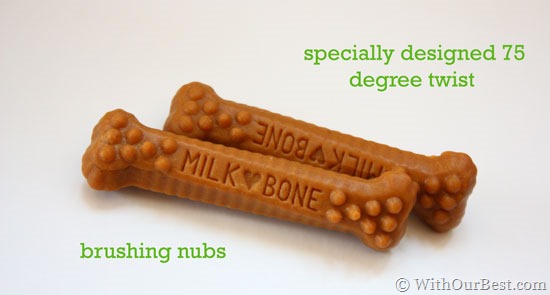 Milk-Bone® Brushing Chews™ work to freshen dog's breath and reduce tartar. How? Because they have a specially designed 75 degree twist, brushing nubs and dots. The texture helps to reach down to the gum line, even cleaning hard-to-reach back teeth.
Milk-Bone® Brushing Chews™ are so effective that they have earned the trusted Veterinary Oral Health Council's (VOHC) Seal of Acceptance, similar to the American Dental Association (ADA) seal seen on human dental products.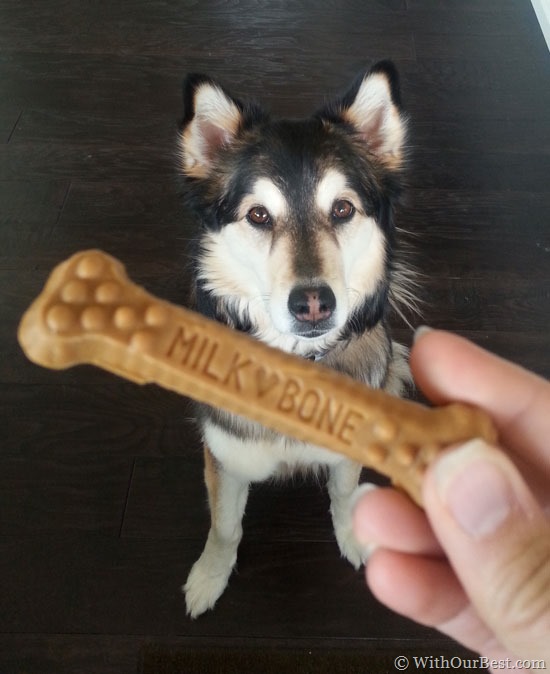 While it may be hard for me to brush my dog's teeth daily, I am thankful I have Milk-Bone® Brushing Chews™ to help me! I don't feel bad about skipping brushing because when Milk-Bone® Brushing Chews™ are fed daily they are clinically proven to be as effective as brushing a dog's teeth twice per week based on reduction of tartar build-up and bad breath.
The funny part is, since Daisy loves, loves, loves to nibble on these Milk-Bone® Brushing Chews™  – she is essentially brushing her own teeth for a change! I love it! How's that for an easy way to clean dogs teeth!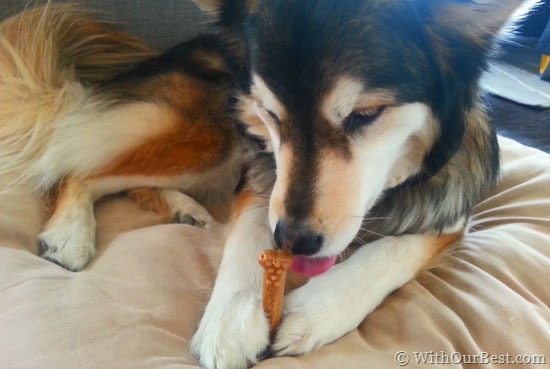 Dog Lovers Shout Out
If you are a dog owner who wants to take care of your dog's oral health but need a convenient option to do so – check out the mini and small/medium varieties of Milk-Bone® Brushing Chews™ they are doing wonders for our dog's oral hygiene!
For more information: · Milk-Bone® Website · Milk-Bone®  Facebook Page · Milk-Bone® Twitter Page · Milk-Bone®  Instagram
Giveaway!
One lucky winner will receive a prize pack including: $25 visa gift card as well as mini and small/medium varieties of Milk-Bone®Brushing Chews™! Enter Below!