Disclosure: I was provided a gift card to try out the Bonefish Grill Summer Menu.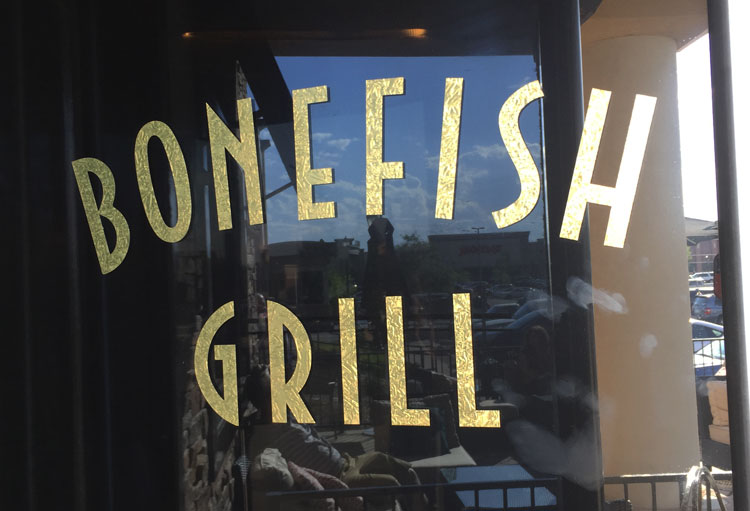 I grew up on the West Coast, so seafood is something I grew up eating a few times a week. Now that I am land locked in Colorado, I find that I no longer eat seafood as regularly. When I do eat seafood, it is usually at restaurants, one of my favorite seafood restaurants, being Bonefish Grill.
Bonefish Grill has that fine-dining experience feel, but also is reasonably priced. This means I can dine there frequently without feeling like it is a place only for special occasions. They have a delicious variety of seafood, steaks, chops and more. So much more than just trout, tilapia, and sea bass on the menu (pleasing to those non-seafood loving family members). The Bonefish Grill Summer Menu is currently available with new options and award winning flavors!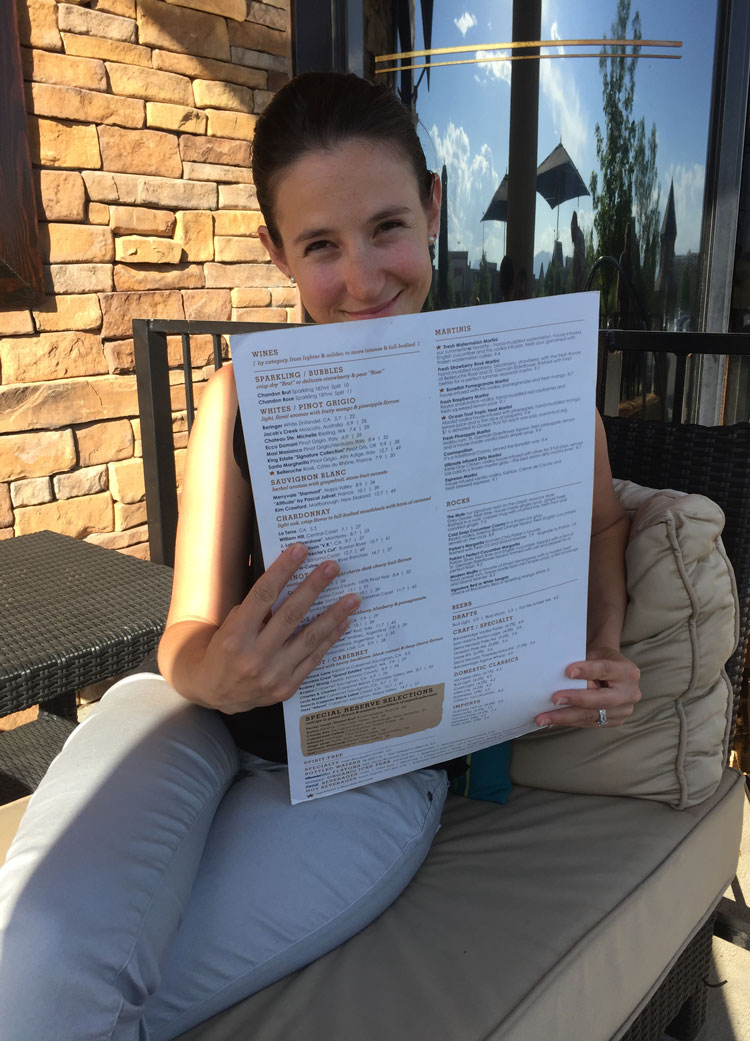 This menu has it all! Look it is almost as large as I am! 🙂
We pursed the grand menu while sitting outside in the lovely summer air. It only took a short while before we were seated! We have never waited long for a table when dining at Bonefish Grill.
Since I am gluten-free, I asked for a gluten-free menu, and sure enough they have a separate menu to fit my gluten-free diet! I had an entire menu that had all kinds of options I could choose from. (It is so nice that they have a separate gluten-free menu so I don't have to worry about bothering the server with question after question!)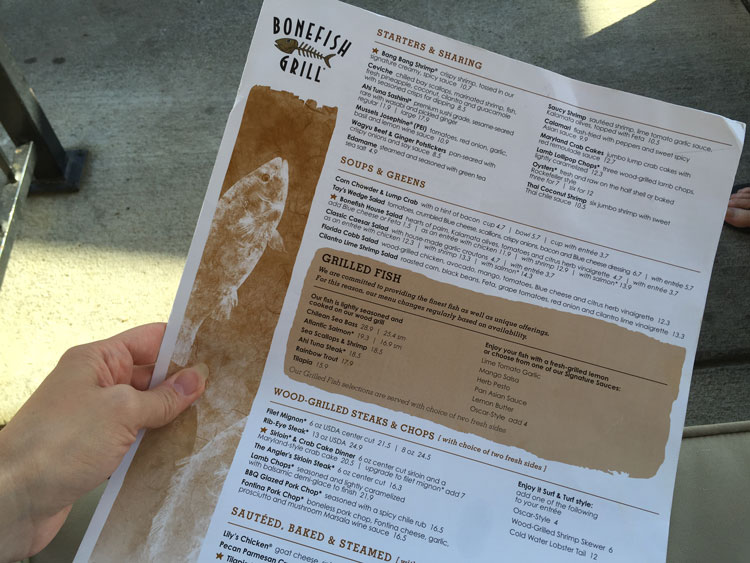 We got our drinks quickly – and the bread basket came next.
For a starter, my husband ordered the Bang Bang Shrimp. It is a crispy coated bowl of shrimp with a signature sauce that shouldn't be missed if you are ever at Bonefish! It is a staple for him. He said he could order it for dinner… and he's right! Look at the huge portion! —>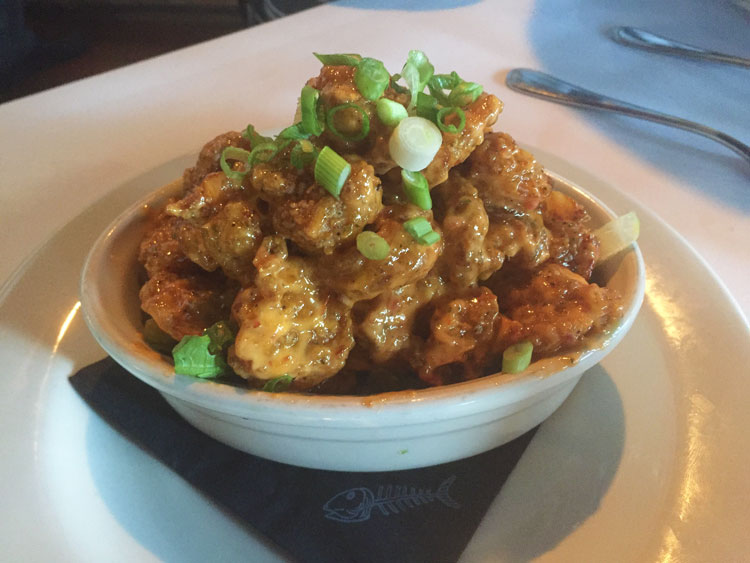 We skipped salads and went to the main meal. My husband ordered the sea scallops. I got one of the nightly specials. It was a large fresh wild salmon with spinach, blue cheese and bacon. It was heavenly! The green beans were crisp and the mashed potatoes melted in my mouth. The meal was so satisfying and I even took some home for lunch the next day (I had to save room for dessert!)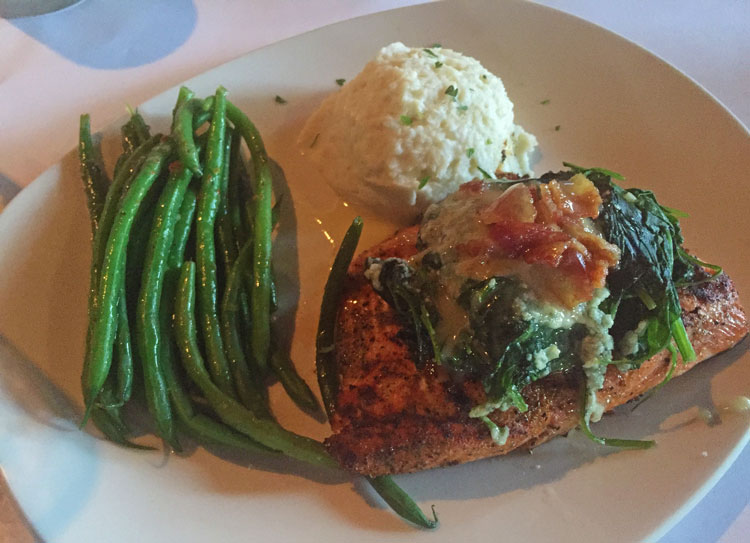 Dessert was a special treat. Often times there is nothing on the dessert menu that I can order, however at Bonefish there are a few choices! We shared the Macadamia Nut Brownie! Although it doesn't sound gluten-free, it is gluten-free – made flourless! It has a raspberry sauce, sprinkled with macadamia nuts and comes with a side of vanilla ice cream. What a wonderful way to end our dining experience!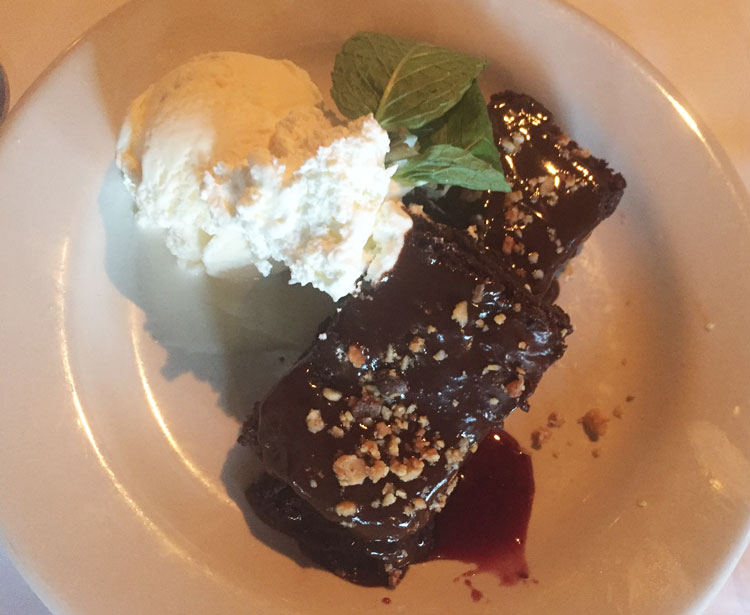 We just love Bonefish Grill. My husband and I enjoyed appetizers, drinks, dinner and even dessert on our evening out! It was a lovely date night!