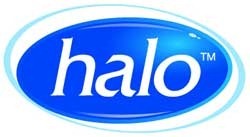 With the job that I have (flight attendant), I get sick quite often. When I first started, I can honestly tell you that I was sick more than healthy. Over the past years it has improved, but I am not completely immune to all the germ-filled passengers, that's for sure! And now that winter is coming, so is flu season and more germs… Honestly,  I will do whatever it takes to keep healthy and avoid getting sick around the holidays. Some helpful life tips are eating well, exercising regularly, and getting a good amount of sleep. All of these are a great start, but then there are also vitamins, washing your hands and more.
The latest new tip I have tried is the NEW Halo Oral Antiseptic Spray. This spray kills 99% of the airborne germs that you breath in. Very cool since I am in close contact with hundreds of people breathing on me everyday. Okay, that sounds odd. But seriously, the plane is just re-circulated (poorly, even) air. Everyone is breathing on everyone! So if you travel at all, or are traveling these upcoming holidays, read on, because you might want to consider this for your travels!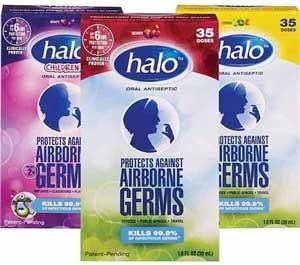 The Halo Antiseptic spray is the first and only product that is clinically proven to kill airborne germs that you breath in, including a broad spectrum of bacteria and viruses, such as rhinovirus (the virus that causes the common cold), influenza and H1N1. It works from simply spraying it in the mouth, it coats the oral cavity, blocking and killing airborne germs breathed in through your nose and mouth – for up to six hours. (Which is great since my flight routes are usually about that long!)
I realize not all of you travel as frequently as I do, but think about the other germ-filled areas you might encounter. A daycare, child's school, doctors office… a grocery cart handle or door knob! Not to mention all the germs that float around in the air – science has proven that germs can stay infectious for hours beyond a sneeze or cough! But if you are healthy there should be no reason to worry, right? I hope so, but I also don't deny adding extra precautions like the new Halo Oral Antiseptic.
Purchase Your Own!! Halo is available in the cough and cold section at CVS, Rite Aid, Kmart, Walmart and more nationwide. They are sold in two flavors for adults, berry and citrus, and a grape flavor for children ages two and up. The travel-size bottle is 1 fl oz. (30 ml), providing 35 doses for a suggested retail price of $12.99.  Halo is alcohol-, dye- and sugar-free.
Connect with Halo!! For more information about Halo and the dangers of airborne germs, visit www.halogermdefense.com and Halo Oral Antiseptic on Facebook and Twitter @HaloGermDefense.
:: Giveaway ::
** Please leave your entries using the above Rafflecopter form. It might take a bit to load. **
Disclosure: No compensation was given for this review/giveaway. I did receive a sample product from the sponsor for the purpose of this honest review. This did not affect the outcome of this review. All opinions are 100% my own. For full disclosure click here.